Reliance Industries Ltd – India's biggest company – sold a 2.32% stake in its digital platform Jio for 113.67 billion rupees ($1.5 billion) to Vista Equity Partners as the group pushes ahead with its drive to become debt-free in a year's time.
This is the third foreign investment in the Reliance Group in two weeks, after a stake sale to Facebook for 436 billion rupees ($5.7 billion) last month and a 56.55-billion rupee ($750 million) stake sale to technology investor Silver Lake, aggregating 605 billion rupees.
In other fund raising initiatives, Reliance announced a $7-billion rights issue last week and is also in talks with Saudi Aramco to sell a 20% stake.
Reliance Industries describes Jio Platforms as a next-generation technology company building a digital society for India by bringing together Jio's leading digital apps, digital ecosystems and high-speed connectivity platform under one umbrella.
Reliance Jio Infocomm, which provides a connectivity platform to over 388 million subscribers, will continue to be a wholly-owned subsidiary of Jio Platforms.
Shares of Reliance Industries gained 4.55% to 1575.90 rupees on the Bombay Stock Exchange, close to its yearly high of 1617.80 recorded on Dec 20, 2019. Its shares had hit a yearly low of 875.70 rupees on March 23, 2020.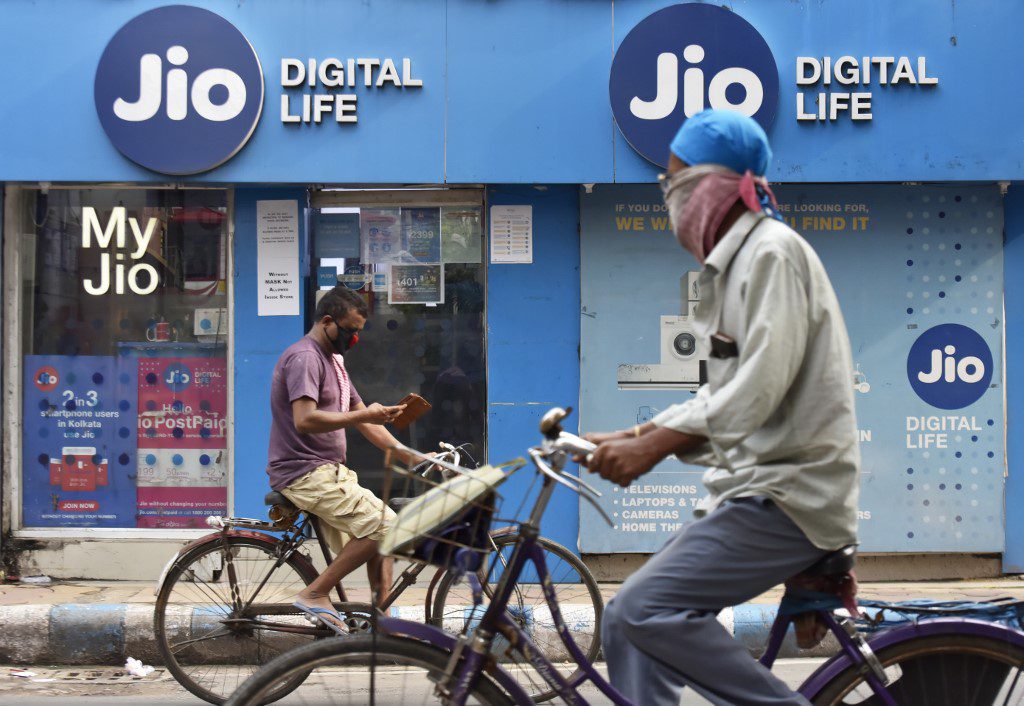 Deleveraging
"Given increase in debt and continued elevated capex, the deals are welcome and should allow for deleveraging," JPMorgan said in a note to clients soon after the announcement.
"As of March 2020 Reliance's gross debt stood at 3.36 trillion rupees. With a subdued core business outlook, the equity stake sale in Jio should allow for deleveraging. Comments on 'similar sized investment in coming months' should support stock price."
On April 30 Reliance announced plans to sell a rights issue of shares in the ratio of one for every 15 owned by existing shareholders at a price of Rs 1,257 apiece. The timing of the sale of shares to existing shareholders for a total amount of 531.25 billion rupees will be decided after the company gets regulatory approvals.
"Overall, we believe the company is on track to hit its deleveraging goals, in which it targets zero reported net debt by financial year 2021," S&P Global analysts said in a note earlier this week.
"Moreover, future investments will likely focus on the digital and retail segments, which are less capital intensive than that of the energy sector."
"We see the possibility of sizeable acquisitions as a risk to our underlying view on RIL, especially in the current environment, where its financial buffer will likely be strengthened substantially. But we believe management is committed to deleveraging, and the company will likely maintain a low leverage for the time being."
Reliance Shifting Focus
Analysts say Reliance, which has predominantly been an oil and petrochemicals company, is now increasing its presence in the high growth telecom, digital and related segments.
Crude oil prices collapsed globally after the coronavirus pandemic and were aggravated by the Saudi-Russian oil production dispute.
Technological changes to counter global warming are also predicted to reduce the use and demand for petroleum products.
The Indian government has been also been pushing for digitalisation of its massive economy and Reliance is using leverage from its mobile network to connect millions of customers and businesses in a market, which has attracted global retail giants Amazon and Walmart.
"Jio's vision is to enable a digital India for 1.3 billion people and businesses throughout India, especially small merchants, micro-businesses and farmers," the company said today in its statement.
• Indrajit Basu and Jim Pollard with AFP, Reuters
This report was updated on January 9 for style purposes.