Shanghai's retail sales plunged 36.5% in May from a year earlier as a Covid-19 outbreak and stringent curbs hit incomes and restricted residents to their homes.
That figure was an improvement from a 48.3% collapse in April at the height of a renewed Covid-19 outbreak.
Fixed-asset investment in the city dropped 21.2% in the first five months, compared with a 11.3% loss in January-April.
Although outbreaks in Shanghai are easing, city officials will require its 16 districts to organise mass Covid-19 testing for all residents every weekend until the end of July.
Retail sales in Beijing shrank 7.7% for the January-May period, after a Covid-19 outbreak and stringent curbs starting from late April confined shoppers to their homes and shut down many service businesses.
Goldman Sachs analysts do not expect China will start fully easing Covid controls before the second quarter of 2023.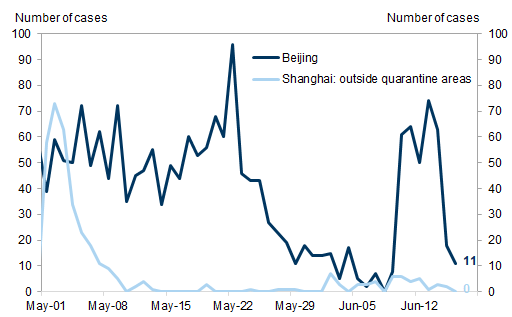 Industrial Output Falls 12.5%
The bank, which provided the chart above, cut its China gross domestic product (GDP) forecast to 4% from 4.5% after weak data in April.
Beijing's industrial output fell 12.5% in the first five months from the same period a year earlier.
A Covid-19 outbreak in the Chinese capital centred on a popular bar is easing after the testing of millions of people and the halting of some leisure businesses, city officials said as it declared an initial victory in its latest battle with the virus.
The flare-up emerged just days after Beijing started to lift widespread curbs that had been in place for more than a month to tackle a broader outbreak in the city.
"After eight days of hard fighting and the concerted efforts of Beijing residents in the battle, the swift and decisive measures have shown their effect," Beijing city government spokesperson Xu Hejian said.
Reuters, with additional editing by George Russell
READ MORE: