US fighter jets have shot down two unidentified objects flying at high altitude – the first over Alaska on Friday and the second over the Yukon in northern Canada on Saturday.
President Joe Biden gave approval for the US military to work with Canada to take down an unmanned "cylindrical object" flying at about 40,000 feet after a call from Canadian PM Justin Trudeau, the Pentagon said.
The dramas come less than a week after a US jet brought down a Chinese balloon that flew across the United States. They suggest the US and Canada have ramped up their response to intrusions over North American airspace.
Time has said balloons may have escaped detection in the past because "American airspace is monitored for fast-moving threats like missiles and planes primarily via radar" and that inflated airships have "low heat signatures".
In a tweet on Saturday, Canadian Prime Minister Justin Trudeau said: "Canadian and US aircraft were scrambled, and a US F-22 successfully fired at the object." Canadian Forces would recover and analyze the wreckage, he said.
The White House said Biden and Trudeau agreed to continue close coordination to "defend our airspace". "The leaders discussed the importance of recovering the object in order to determine more details on its purpose or origin," it said in a statement.
A day earlier, Biden ordered another unidentified flying object about the size of a car to be shot down over Alaska and efforts were underway on Saturday to recover that object from sea ice near Deadhorse, an isolated community in northern Alaska.
"We don't know who owns this object," White House spokesperson John Kirby said, adding that it was unclear where it began its flight.
ALSO SEE:
Six Chinese firms blacklisted over 'spy balloons'
The 'takedowns' follow a move by US Commerce officials on Friday to add six Chinese entities connected to Beijing's suspected balloon surveillance programme to an export blacklist.
The blacklisting of the Chinese entities seeks to "disrupt the PRC's use of surveillance balloons," flying over the United States and other countries, Assistant Secretary of Commerce for Export Enforcement Matthew Axelrod, said.
It came after the White House said it would "expose and address" China's larger surveillance activities that threaten US national security and that of its allies.
The Commerce Department said the five companies and one research institute were supporting "China's military modernization efforts, specifically the People's Liberation Army's (PLA) aerospace programmes including airships and balloons."
"The PLA is utilizing High Altitude Balloons for intelligence and reconnaissance activities," the listing posted for the Federal Register, the official US daily journal, said.
Companies added to the Entity List are expected to find it hard to obtain US tech exports, officials said.
Companies named
Two of the entities are Beijing Nanjiang Aerospace Technology and China Electronics Technology Group Corporation 48th Research Institute.
The Biden administration also added Dongguan Lingkong Remote Sensing Technology, Eagles Men Aviation Science and Technology Group, Guangzhou Tian-Hai-Xiang Aviation Technology and Shanxi Eagles Men Aviation Science and Technology Group.
An employee at Guangzhou Tian-Hai-Xiang Aviation said she was not aware of the sanctions, and declined to comment further. The company has close ties with the Chinese military, and makes aviation products for civilian and military use, according to its website.
The Chinese embassy in Washington and China Electronics Technology Group Corporation 48th Research Institute did not respond to requests for comment. The government-owned 48th Research Institute produces sensors for civil and military use, according to its website.
Beijing Nanjiang is a unit of Shanghai-listed developer Deluxe Family, according to an exchange filing. The firm partnered with Beihang University in developing China's first military-civilian near-space airship named "Dream", the People's Daily said.
Dongguan Lingkong receives indirect investment from the Institute of Beihang University in Dongguan, which develops unmanned airships, according to public registration information. Eagles Men Aviation and Shanxi Eagles Men Aviation both receive investment from a private equity fund promoting military-civil integration.
Washington has said it was confident the manufacturer of the Chinese balloon has a "direct relationship" with the PLA.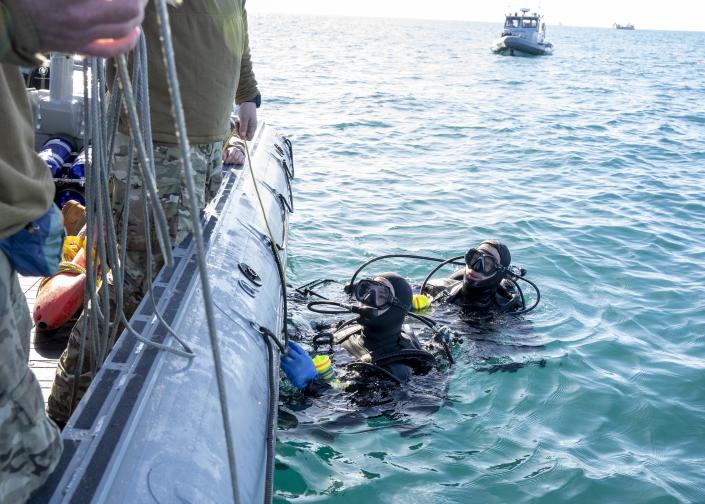 Sailors conduct pre-dive checks during recovery efforts of a high-altitude balloon in the Atlantic on February 7, 2023. Photo: Ryan Seelbach, US Navy.
'Spy balloon' undercarriage found
On February 4, another F-22 jet brought down a Chinese surveillance balloon off South Carolina following a week-long journey across the US and portions of Canada.
China's government said the balloon was a civilian weather research vessel. But US officials say it was a device that monitored secret communications near nuclear weapons bases in the US.
More about the balloon's surveillance capabilities is expected to be known next week. US officials said the undercarriage of the balloon was found on Thursday, but it has yet to be retrieved. The search team is reported to be waiting for a crane or vessel that can winch the undercarriage up on Monday.
The spectacle of the Chinese balloon drifting over the United States last week caused political anger in Washington and prompted Secretary of State Antony Blinken to cancel a trip to Beijing that both countries had hoped would patch up frayed relations.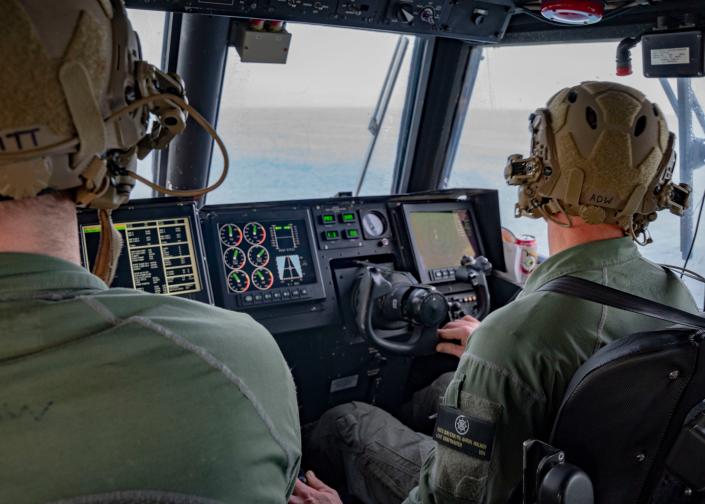 Sailors operate landing craft air cushions during recovery efforts of a high-altitude balloon in the Atlantic on Feb 8, 2023. Pic: MSC1 Ryan Seelbach, US Navy.
UFO shot down over Alaska flew at 40,000 feet
On Saturday, the Pentagon and the White House declined to give a detailed description of the first object shot down over Alaska, saying only that it was far smaller than the Chinese balloon downed off South Carolina.
US officials did not speculate on what the object might be, even after a day of observation, raising questions on what kind of object could be so difficult to identify by experienced US pilots and intelligence officials.
The Pentagon said it was first detected on Thursday using ground radars. F-35 aircraft were then sent to investigate. The UFO was flying at about 40,000 feet (12,190 meters) in a northeasterly direction, posing a risk to civilian air traffic.
The object was shot down off the coast of northeastern Alaska over frozen US territorial waters near the Canadian border. Officials said it should be easier to retrieve pieces of the object from the ice than it was with the Chinese balloon, pieces of which sank in the ocean when it was shot down.
Ryder said pilots who flew alongside the latest object before it was downed determined that no human was aboard. He said it was incapable of maneuvering and did not resemble an airplane.
He and other officials would not say whether it could simply be a weather balloon or another type of balloon. "It wasn't an aircraft per se," Ryder told a news briefing.
The F-22 shot down the object at 1:45pm EST. "In this particular case, it was determined that this posed a reasonable threat to air traffic," Ryder said.
The Federal Aviation Administration (FAA) said it closed some airspace in northern Alaska to support Department of Defense activities.
After Friday's object was shot down, some lawmakers praised Biden.
"Glad to see the president act swiftly on this new intrusion to our airspace," Senator Mark Warner, chair of the Senate Intelligence Committee, said.
During an often contentious Senate hearing on Thursday, lawmakers criticized the Pentagon for not shooting down the Chinese balloon earlier, underscoring persistent concern in Congress about gaps in the US ability to safeguard its airspace.
Reuters with additional editing by Jim Pollard
NOTE: This report was updated and the headline changed on February 12, 2023 with details of the UFO shot down over Canada.
ALSO SEE: