US President Joe Biden said in his State of the Union address on Tuesday that he would cooperate with China, but vowed to 'protect US sovereignty', referring to the ongoing diplomatic row over a Chinese spy balloon.
"I'm committed to work with China where we can advance American interests and benefit the world," Biden said in his address. "But make no mistake about it: as we made clear last week, if China threatens our sovereignty, we will act to protect our country. And we did."
Beijing has denied the balloon was an espionage device. However, US media reported that the Chinese spy balloon "is part of an extensive surveillance programme run by the Chinese military."
"The programme has conducted at least two dozen missions over at least five continents in recent years," CNN reported, citing unnamed US officials.
Biden had been expected to address competition with China, but his speechwriters would have added that remark after the balloon traversed the skies above the United States.
The incident continues to dominate the news cycle, even after a US fighter jet shot it down over the Atlantic Ocean on Saturday.
CNN called Biden's "dramatic warning" "unusually direct", while on conservative Fox News, commentator Sean Hannity rhetorically asked viewers whether they trusted Biden "to protect our country." "The answer is obvious," he continued, adding "what you saw tonight was a weak, crotchety old man."
'No apologies' on chip war
Biden also touted legislation passed last year to boost the US semiconductor industry, promising more.
"I will make no apologies that we are investing to make America strong. Investing in American innovation, in industries that will define the future, that China intends to be dominating," Biden said.
"Today, we're in the strongest position in decades to compete with China or anyone else in the world," he added.
Investor reactions to Biden's State of the Union address remained mixed.
"I expected some more hawkish comments on China. Biden should be clearer about how they are going to develop the supply chain away from China. Trade with China is still increasing, rather than decreasing, at this moment. In that sense, he wasn't hawkish enough," Naka Matsuzawa, chief strategist at Nomura in Tokyo, said.
'Autocracy has grown weaker'
In another reference to China, Biden told the starkly divided US House of representatives that "Winning the competition should unite all of us."
"Autocracy has grown weaker, not stronger. Name me a world leader who would change places with Xi Jinping," he added.
Biden's criticism of Xi follows Beijing's stringent zero-Covid regime that brought the world's second largest economy to its knees and disrupted supply chains across the world. The policy was dismantled following a deepening economic slowdown in China.
The strict controls prompted Western businesses, ranging from automakers to smartphone makers, to reduce their China dependence and expand manufacturing operations elsewhere.
Biden, in his speech, also denounced Russia's invasion of Ukraine, another flashpoint in the US-China relationship. While the US has sought to cut off funding for Moscow's 'war chest', China has continued to build on its commitment of a 'no-limits' partnership with Russia.
Most recently, the Washington Post reported that China was providing Russia key military technology that was directly aiding its invasion of Ukraine.
Spy balloon tensions unabated
The ongoing tensions between the two economic superpowers have once again stoked fears of a cold war.
Secretary of State Antony Blinken, who sat with other members of the cabinet in the House of Representatives as Biden spoke, cancelled a planned trip to Beijing amid the uproar.
A Pentagon spokesman said on Tuesday that China declined a US request for a phone call between US Defence Secretary Lloyd Austin and Chinese Defence Minister Wei Fenghe.
The Pentagon submitted the request for a secure call on Saturday, immediately after shooting down a suspected Chinese surveillance balloon off the coast of South Carolina, Brigadier General Patrick Ryder said in a statement.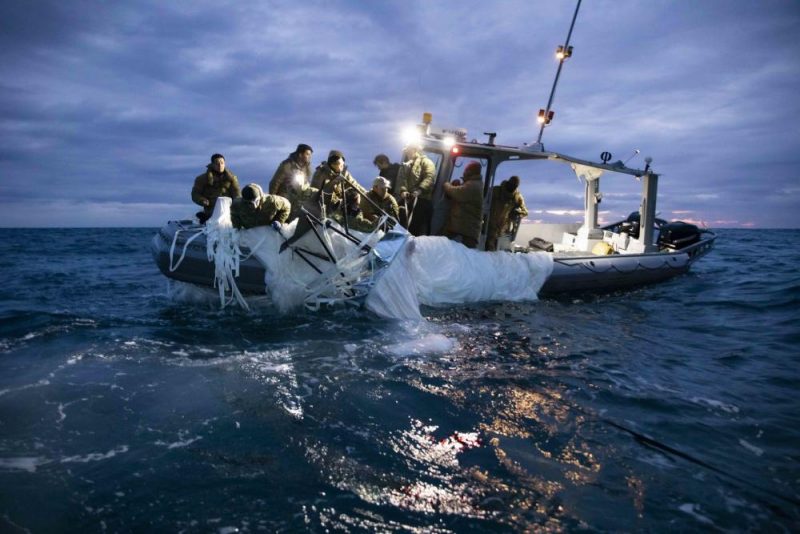 China said its embassy in US "lodged stern representations with senior officials from the US Department of State and White House National Security Council," according to a Global Times report.
US Senate Democratic leader Chuck Schumer said relations with China were strained and the Biden administration is looking at other actions it can take after shooting down the Chinese spy balloon.
The United States also held briefings in Washington and Beijing with foreign diplomats from 40 nations about the spy balloon.
"We want to make sure that we are sharing as much as we can with countries around the world who may also be susceptible to these types of operations," a senior administration official said.
Republicans, who took control of the House of Representatives last month, have pushed a hard line in dealings with Beijing, but it is one of the few truly bipartisan sentiments in the deeply divided US Congress.
Democrats have joined Republicans in demanding more information about the balloon and the Biden administration's policy toward the government in Beijing.
The White House has taken a more nuanced approach, seeking to tamp down tensions with China that flared in August when former House Speaker Nancy Pelosi, a Democrat, visited Taiwan.
Pelosi's visit prompted Beijing to conduct military drills near the Chinese-claimed island. Tensions could spike again if the new House speaker, Republican Kevin McCarthy, visits Taiwan as expected this year.
Reuters, with additional inputs from Vishakha Saxena
Also read: