Texas-based financial technology company Fintiv Inc has launched a lawsuit alleging digital payment giant PayPal Holdings Inc has infringed five of its patents.
The move comes as Fintiv continues similar litigation it previously initiated against Apple Pay and, separately, Walmart.
Court documents obtained by Asia Financial outline Fintiv's claims against the digital payment behemoths, alleging the basic functionality of their respective payment platforms infringes Fintiv patents.
Also on AF: Apple Grapples for Sales as China Phone Market Shrinks
The suit against Walmart alleges misuse of trade secrets, but also revolves around the same intellectual property – using phone-based technology to process payments. Fintiv claims it created the IP that makes much of it work
The stakes could be huge as online and phone-based digital payments have taken off, and the breakneck pace of growth is expected to continue.
"We're talking billions of dollars here," says Sol Saad, a Florida-based technology investment banker whose firms have advised Fintiv in the past. "This would include future royalties but also back payments for prior years of infringement."
In Walmart's case, one approach could be to look at Walmart's market valuation at the time the infringement began, compare that to today's valuation, then calculate how much of that growth can be attributed to the digital payment systems using the trade secrets in question to calculate how much Walmart would have to pay Fintiv, according to Saad.
In 2018, Walmart's market capitalisation was about $260 billion. At the end of 2021, it was over $400 billion.
"These three cases are pretty significant for the tech community as a whole," says Court Coursey, a director with Fintiv. "If you see one of these cases become a victory, I think you'll see the rest become licence deals pretty quickly."
Apple, PayPal and Walmart did not respond to requests for comment from Asia Financial.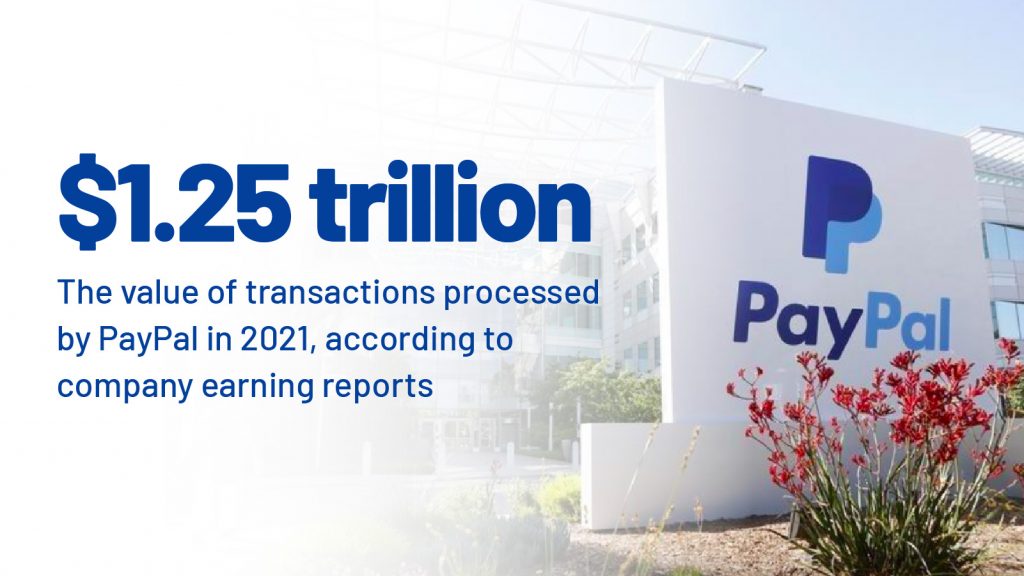 Apple Pay, PayPal's Digital Payment Dominance
Both Apple Pay and PayPal have grown their digital payments businesses from almost nothing to become market leaders quickly.
PayPal annual reports say the company processed over $282 billion in transaction value in 2015, 20% more than in 2014. In its most recent earnings release, PayPal reported 2021 total transaction volume hit $1.25 trillion.
Apple combines Apple Pay transaction figures with other services in its financial reports, but figures from industry data firm Pymnts show Apple Pay is now the biggest in-store mobile wallet player, with 45.5% share. The same data show Apple Pay transactions at US retail stores grew from an estimated $5 billion in 2015 to some $90 billion in 2021.
In the 24-page complaint against PayPal filed in early 2022, Fintiv accuses PayPal of infringing Fintiv's patents and seeks enhanced damages for the alleged infringement and royalties, plus attorneys' fees, litigation costs and interest, as well as a finding that the patents are valid and enforceable.
Given the sums of transaction value involved, Fintiv's payoff could be massive if it can persuade a jury the company's patents are valid and have been infringed – and the implications would be equally massive for any company using similar mobile phone-based payment technology.
"Fintiv has a strong patent portfolio of over 150 patents, in addition to a large number of patent continuations and patents pending," says Saad. "Mozido [Fintiv's predecessor company] invented and patented this idea before the technology to make it happen even existed, and has followed up with subsequent patents as the technology to support them emerged."
Fintiv's Western Alliance, Radio Shack Digital Payment Collaboration
Indeed, in early 2008 Fintiv's predecessor company launched a phone-based payment remittance service in collaboration with Western Union and Radio Shack.
Under the deal, Radio Shack sold mobile phones that came with a chip that could store money. Users loaded money onto the chip, then used their cell phones to send money via Western Union. The recipient got a text with a payment code to collect the money at any Western Union agent in Latin America or the Caribbean.
To put that into perspective, the first smart phone hit the market just 10 months earlier.
Fintiv first filed suit against Apple in December 2018. The following October, Apple filed a petition to review the patents in question. In May 2020, Apple's patent review petition was denied given that a trial had already been set for March 2021.
That trial is now slated to start in United States District Court for the Western District of Texas in June 2022.
• By Neal McGrath
ALSO on AF: