(ATF) Stock markets in Asia and Europe fell on Friday after news emerged that US President Donald Trump and his wife Melania had both tested positive for the coronavirus.
Japanese Economy Minister Yasutoshi Nishimura said news of President Trump getting the coronavirus had a major impact on financial markets. Speaking to reporters, he said he hoped Trump would recover quickly.
The benchmark Nikkei 225 index down 0.67% or 155.22 points to end at 23,029.90 for a weekly loss of 0.75%, as the Tokyo Stock Exchange resumed normal trading after its worst-ever outage brought the world's third-largest equity market to a standstill on Thursday.
Markets elsewhere were hit by a wave of risk aversion, a natural reaction to perhaps the world's most powerful man getting a disease which has claimed over a million lives worldwide.
Stocks on Wall Street fell almost 1% by midday in New York, following lesser declines in Europe's broad pan-regional indexes and an initial sell-off in Asia. 
MSCI's benchmark for global equity markets fell 0.62% to 564.49, while its index for emerging markets stocks fell 0.06%. Europe's broad FTSEurofirst 300 index dropped 0.28% to 1,398.28.
On Wall Street, the Dow Jones Industrial Average fell 0.78%, the S&P 500 lost 0.81% and the Nasdaq Composite dropped 1.18%.
Australia's S&P/ASX 200 index fell 0.98% as a decline in oil and copper prices weighed on the country's resources sector.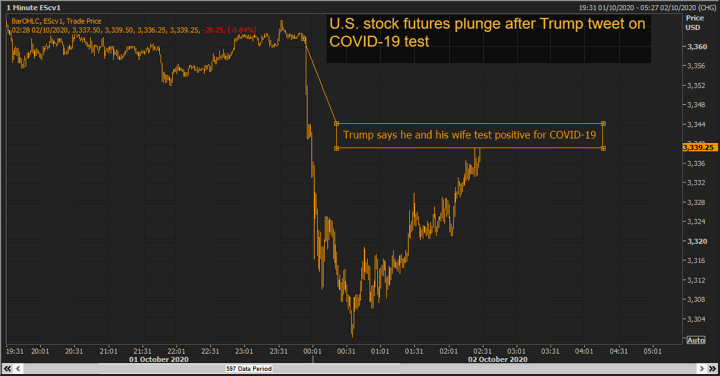 The news from the White House triggered a rise in the dollar as well as the yen. The dollar index rose 0.092%, with the euro down 0.27% at $1.1715. The yen strengthened 0.16% versus the greenback at 105.35 per dollar.
Germany's benchmark 10-year bond was down around 0.7 basis point at -0.536%.
Biden not infected
Trump's rival in the presidential race Senator Joe Biden had been tested and returned a negative result, his campaign team said. The former Vice President wished Trump and his wife a speedy recovery.   
White House physician Sean Conley said Trump and the First Lady Melania Trump were both "well" and the president would continue to perform his duties while quarantined at the White House.
Conley said: "I expect the president to continue carrying out his duties without disruption while recovering."
Trump said earlier on Twitter that he and his wife had been tested for coronavirus after Hope Hicks, a senior advisor who recently travelled with the president, tested positive. He later tweeted that he and the first lady tested positive.
"We will begin our quarantine and recovery process immediately," he said on Twitter, adding "We will get through this TOGETHER!"
The White House cancelled his planned campaign rally in the crucial swing state of Florida on Friday.
Just 32 days before the November 3 election against Democrat Joe Biden and behind in the polls, it also looked certain that Trump would have to cancel a slew of other trips scheduled for this weekend and next week.
Trump's positive could cause a new wave of market volatility as investors brace for the hotly-contested presidential election in November.
"It has the potential to reduce Trump's campaigning ability. He's got a lot on and it's an interruption," said Sean Callow, currency strategist at Westpac in Sydney.
"It also hurts him as far as the whole narrative that it's really not much to worry about – it puts the Covid crisis itself back front and centre."
Markets had been choppy early after a spate of data, including jobless claims and consumer spending, suggested that the plodding US economic recovery could be losing steam.
China's stock and bond markets, foreign exchange and commodity futures markets are closed from October 1-8 for the Golden Week holiday, while South Korea and Hong Kong markets are also closed today (Friday) for holidays.
US markets kicked off the fourth quarter by closing higher on Thursday while investors tracked progress in negotiations for additional fiscal stimulus.
The Dow Jones Industrial Average rose 0.13% on Thursday. The S&P 500 gained 0.53% and the Nasdaq Composite added 1.42%.
Oil down
US consumer spending is starting to slow due to a shaky jobs market. If policymakers cannot agree on more support, the US economy could lose more momentum.
Traders are also waiting for the Labor Department's report on non-farm payrolls and the jobless rate later Friday, following new layoff announcements from the likes of Disney and Goldman Sachs.
Spot gold fell 0.55% to $1,894.60 an ounce, adding to its worst month since November 2016, while oil prices continued to fall, adding to a 10% September drop.
Brent crude futures fell $1.53 to $39.4 a barrel. US crude futures slid $1.41 to $37.31 a barrel.
Oil prices fell more than 3% on Thursday as rising coronavirus cases around the world dampened the demand outlook, while a rise last month in member output from the Organisation of the Petroleum Exporting Countries also pressured prices.
US oil is heading for a drop of more than 5% this week, while Brent is on track to fall more than 4%, in a second consecutive week of decline for both contracts.
Oil was already in negative territory after a bipartisan deal for more economic relief in response to the pandemic continued to elude House Speaker Nancy Pelosi and the White House, adding to fears about worsening demand without more support for the economy.
Lack of new US stimulus blamed
"The chief culprit appears to be a lack of a new US stimulus package, reflecting the disappointment seen in other asset classes," said Jeffrey Halley, Senior Market Analyst at OANDA" 
"Oil's upside was always likely to be limited, as fears rise about the global consumption picture, and from rising OPEC+ production," he added.
Crude supplies from the Organization of the Petroleum Exporting Countries (OPEC) in September rose by 160,000 barrels per day (bpd) from a month earlier, a Reuters survey showed.
The increase was mainly the result of more supplies from Libya and Iran, OPEC members that are exempt from an agreement to withhold production between OPEC and allies led by Russia – a group known as OPEC+.
Libya's production has risen faster than analysts expected with the relaxation of a blockade by the Libyan National Army, which is trying to take control of the capital and is mainly based in the eastern part of the country, where many oil facilities are located. Output of crude from Libya has risen to 270,000 bpd as the country ramps up export activity, a Libyan oil source told Reuters on Thursday.
New Covid-19 cases worldwide have risen to more than 34 million, nearly 2 million more than at the end of last week, based on Reuters tallies.
This week marked the grim milestone of deaths exceeding 1 million and several countries are tightening restrictions and contemplating lockdowns as infections accelerate, prompting concerns about the impact on demand for fuel.
With reporting by AFP, plus Pete Schroeder and Aaron Sheldrick for Reuters.