Commerce ministers from the US and China met in Washington for talks described as "candid and substantive".
Commerce Secretary Gina Raimondo and her counterpart Wang Wentao discussed a series of trade and security issues that have rocked bilateral dealings and amplified geopolitical tensions.
Their meeting was the first US-China cabinet-level exchange in months, after problems such as the 'spy balloon' fiasco and other concerns derailed plans for re-engagement between the world's two largest economies.
ALSO SEE:
"The two had candid and substantive discussions on issues relating to the US-China commercial relationship, including the overall environment in both countries for trade and investment and areas for potential cooperation," the Commerce Department said in a statement.
"Secretary Raimondo also raised concerns about the recent spate of PRC (People's Republic of China) actions taken against US companies operating in the PRC," the statement added.
Wang raised key concerns about US policies toward China, including on semiconductors, export controls and reviews of foreign investments, a Chinese Commerce Ministry statement said.
Both sides agreed to establish and maintain open communication channels, with Raimondo's office saying that would help "responsibly manage the relationship."
China's Commerce Ministry said the communications would allow exchanges on specific economic trade concerns and cooperation matters.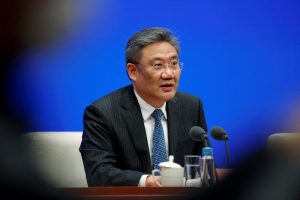 Wang to meet US Trade Rep in Detroit
Wang is also expected to meet with US Trade Representative Katherine Tai on the sidelines of an APEC trade ministers meeting in Detroit that wraps up on Friday.
US President Joe Biden and Chinese President Xi Jinping pledged more frequent communications at a G20 summit in Indonesia last November to avoid US-China tensions from spilling into a new Cold War.
But those plans suffered several setbacks, starting with the downing of a Chinese spy balloon in US coastal waters.
These irritants continued through last Sunday, when G7 leaders pledged to resist China's "economic coercion" and Beijing responded by declaring US memory chip maker Micron Technology a national security risk, banning its sales to key domestic industries.
The ban followed a series of raids on American consultancies in China.
Talks with US firms in Shanghai
On Monday, Wang met representatives of American firms in Shanghai, including Johnson & Johnson, 3M, Dow, Merck, and Honeywell, according to the Ministry of Commerce, telling them that "China will continue to welcome US-funded enterprises to develop in China and achieve win-win results".
China has complained about the growing number of US export restrictions on advanced semiconductors and other high technology goods that could have military applications and security reviews that discourage Chinese investment in the United States.
Wang's trip to the US comes after Group of Seven (G7) leaders met in Hiroshima, at which US President Joe Biden and other G7 leaders took aim at China over "economic coercion" and said they would "de-risk" without "decoupling" from the world's second-largest economy in everything from chips to minerals.
Raimondo, Blinken, and Treasury Secretary Janet Yellen have all expressed interest in visiting China.
Reuters with additional editing by Jim Pollard
ALSO SEE: