WASHINGTON: The number of Americans filing new claims for jobless benefits fell last week but remained at recession levels, while personal income dropped in August, underscoring the need for another government rescue package for businesses and the unemployed.
The decline in initial claims reported by the Labor Department on Thursday likely reflected a decision by California to suspend the processing of new applications for two weeks to combat fraud. Economists are warning that the economy and labor market recovery from the COVID-19 slump could sputter without an infusion of new money from the government.
House of Representatives Speaker Nancy Pelosi, a Democrat, and Treasury Secretary Steven Mnuchin are working toward a bipartisan agreement for another fiscal package.
Initial claims for state unemployment benefits decreased 36,000 to a seasonally adjusted 837,000 for the week ended September 26. Economists polled by Reuters had forecast 850,000 applications in the latest week.
California is using the two-week pause to reduce its claims processing backlog and implement fraud prevention measures. The Labor Department acknowledged the suspension could result in "significant" week-to-week swings in initial claims "unrelated to any changes in economic conditions."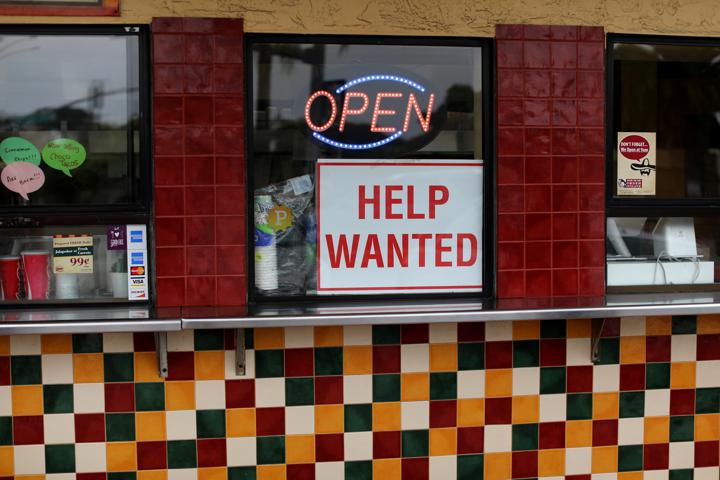 A help wanted sign is posted at a taco stand in Solana Beach, California. Photo: Reuters
The department said California's initial claims data would reflect the level reported during the last week prior to the pause. The data would be updated when California resumes processing new applications.
Claims have hovered at higher levels after dropping below 1 million in August as the government changed the way it strips seasonal fluctuations from the data. They are above their peak of 665,000 during the 2007-2009 Great Recession, though filings have dropped from a record 6.867 million at the end of March. 
Labour market gains from the reopening of businesses are fading and economists are predicting a slowdown in hiring through the rest of this year and into 2021.
New coronavirus cases are rising, with a surge expected in the autumn, which could lead to some restrictions being imposed on businesses in the services sector. In addition, political uncertainty is rising and could extend beyond the November 3 presidential election, and make businesses reluctant to hire.