US President Joe Biden welcomed his counterpart Ferdinand Marcos Jr to the White House on Monday with an assurance that America's commitment to defend the Philippines was "ironclad."
And it was stressed that support includes Philippine waters in the South China Sea, where Manila has faced repeated harassment from Chinese vessels.
"We are facing new challenges and I couldn't think of a better partner to have than you," Biden told Marcos at the start of their meeting. "The United States remains ironclad in our commitment to the defence of the Philippines, including the South China Sea," he said.
"Our countries not only share a strong partnership, we share a deep friendship, one that has been enriched by millions of Filipino Americans."
ALSO SEE:
'Most complicated geopolitical situation in the world'
Marcos, on the first White House visit by a Philippines leader in 10 years, stressed the importance of the United States as his country's sole treaty ally in a region with "arguably the most complicated geopolitical situation in the world right now."
The two countries reaffirmed their decades-old security alliance in a trip that marks a dramatic turnaround in US-Philippine relations as both countries seek ways to push back against what they see as China's increasingly aggressive actions near Taiwan and in the South China Sea.
Both were keen to set up new guidelines for stronger military cooperation, officials said, which are likely to also involve Japan and Australia, as well as stepped up bilateral economic dealings.
A joint statement said this meant that any armed attack on Philippine armed forces, public vessels or aircraft in the Pacific, including in the South China Sea, would invoke US mutual defence commitments under a 1951 Mutual Defence Treaty.
Washington sees the Philippines as key to any effort to counter an invasion of Taiwan by China, which claims the self-ruled island as its own territory.
Manila recently agreed to allow the United States access to four more of its military bases under an Enhanced Defence Cooperation Agreement, but the two sides have not said what US assets will be stationed at those.
The joint statement said the leaders "affirm the importance of maintaining peace and stability across the Taiwan Strait as an indispensable element of global security and prosperity."
Under Rodrigo Duterte, Marcos' predecessor, US relations soured as he turned the Philippines sharply away from its former colonial ruler and built closer ties with China.
Biden has invested in courting Marcos, who still faces a US court judgment connected with $2 billion of plundered wealth under his father's rule.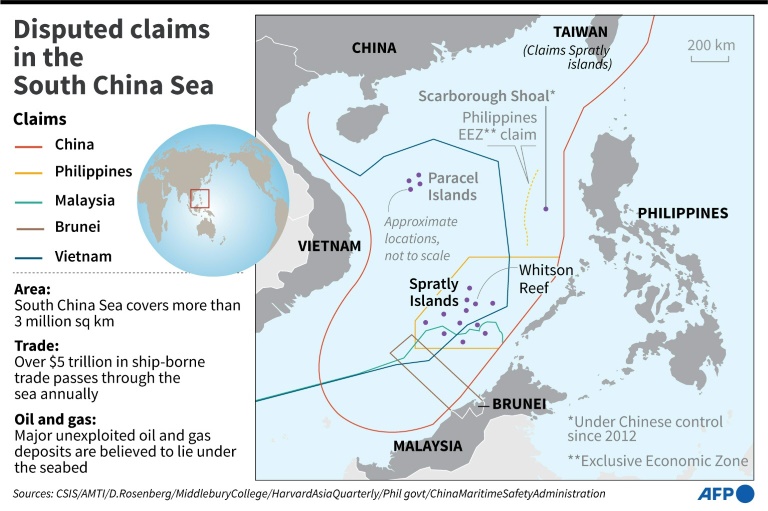 US gives Manila aircraft and patrol vessels
US officials said the new guidelines focused on military coordination across land, sea, air, space and cyberspace, while the US administration would also transfer three C-130 aircraft and look to send additional patrol vessels to the Philippines.
"It is only natural for the Philippines to look to its sole treaty partner in the world to strengthen and to redefine the relationship that we have and the roles that we play in the face of those rising tensions that we see now around the South China, Asia Pacific and Indo-Pacific region," Marcos said.
The summit is the centrepiece of a four-day US visit by Marcos that started on Sunday.
Marcos has sought warm relations with both the United States and China, who are vying for influence in the Indo-Pacific. The Biden-Marcos joint statement did not name the Chinese government.
Experts say Washington considers the Philippines a potential location for rockets, missiles and artillery systems to counter a Chinese amphibious assault on Taiwan.
However, Marcos told reporters on his plane China had agreed to discuss fishing rights in the South China Sea and also that he would not allow the Philippines to become a "staging post" for military action.
US trade mission to boost clean energy
The joint statement said Biden would send a Presidential Trade and Investment Mission to the Philippines to enhance investment in clean energy transition, the critical minerals sector, and food security.
The two countries would also co-host in Manila the 2024 Indo-Pacific Business Forum – the marquee US commercial event in the region – which would further establish the Philippines as a key hub for regional supply chains.
The statement also said the countries looked forward to establishing trilateral cooperation with Japan and Australia.
With many Filipinos frustrated by China's actions in the South China Sea, including the harassing of Philippine ships and fishermen in parts that both countries claim, popular support has grown in the Philippines for a tougher stance toward Beijing.
Biden was the first official to reach out to Marcos after his election and has made strengthening economic and military ties in the Indo-Pacific region a cornerstone of his foreign policy.
Before the summit, US lawmakers sent a bipartisan letter to Biden calling on him to raise what they called the worsening human rights "crisis" in the Philippines.
They said there were well-documented violations under Duterte but recent reports showed "ongoing impunity." They cited reports from the Karapatan Human Rights Alliance of 17 extrajudicial killings, 165 illegal arrests from July to December 2022, and a total of 825 political prisoners.
A White House summary said human rights were among the topics being discussed by the two countries.
Reuters with additional editing by Jim Pollard
NOTE: Further details were added and minor edits done to this report on May 2, 2023.
ALSO SEE: