China is expecting its total passenger traffic during the upcoming Lunar New Year to double from 2022 even as a massive wave of Covid infections spreads across the world's most populous country.
Traffic officials said the total number of trips made by travellers by road, rail, water and flight during the period, known as the Chinese New Year, is set to reach 2.1 billion this year. That is double from last year's 1.05 billion during the same period.
Daily passenger flights scheduled during the 40 days holiday transportation season, starting Saturday, is averaging about 11,000, about 73% of the pre-Covid level in 2019, officials said in a news briefing on Friday.
The transport ministry has also urged people to be cautious to minimise the risk of infection for elderly relatives, pregnant women and infants.
Many people in China have taken to social media to announce their travel plans but some remain wary.
"You want to see the world, but the world might not want to see you," wrote one WeChat user from Tianjin city.
The transport ministry's estimate comes at a time when China's aviation regulator wants passenger traffic in the country to reach around 75% of pre-pandemic levels in 2023.
In comparison, passenger traffic in the world's second-largest economy was at 38% last year as Beijing's now-abandoned "zero-Covid" regime led to domestic lockdowns and kept the border closed.
China's major state-owned airlines have reported billions of dollars of losses for the first three quarters of 2022. Analysts expect fourth-quarter results to be poor as well.
The outlook for 2023 is brighter, however, with Chinese airlines expected to be the early winners from the country's January 8 international opening.
International travel curbs rack up
More countries around the world are, meanwhile, demanding that visitors from China take Covid tests as the country battles a 'tidal wave' of infections.
Greece, Germany and Sweden on Thursday joined more than a dozen countries to demand Covid tests from Chinese travellers, as the World Health Organisation said China's official virus data was under-reporting the true extent of its outbreak.
China, on the other hand, will end the requirement for inbound travellers to quarantine from Sunday as it continues to dismantle it's stringent zero-Covid policy. It will still require pre-departure testing for inbound travellers after January 8.
Chinese officials and state media have struck a defiant tone, defending the handling of the outbreak triggered by abrupt policy changes that have exposed many of the country's 1.4 billion citizens to the virus for the first time
Authorities continue to play down the severity of the surge and denounce foreign travel requirements for its residents, even with the infection wave overwhelming funeral parlours and hospitals, and emptying pharmacy shelves.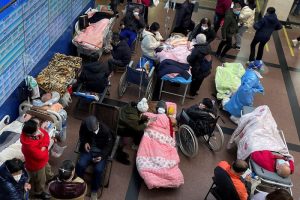 Foreign Ministry spokesperson Mao Ning warned on Friday of possible reciprocal measures after the European Union recommended pre-departure testing for Chinese passengers.
"The EU should listen more to … rational voices and treat China's epidemic prevention and control objectively and fairly," Mao told a regular media briefing in Beijing.
The Global Times, a nationalistic tabloid published by the official People's Daily, said in an editorial that some Western media and politicians "would never be satisfied" no matter what steps China takes.
The global aviation industry, battered by years of pandemic curbs, has also been critical of the decisions to impose testing on travellers from China.
International health experts believe Beijing's narrow definition of Covid deaths does not reflect a true toll that could rise to more than a million fatalities this year.
Lunar New Year concerns
With the big Lunar New Year holidays late this month, the mainland is also set to open the border with its special administrative region of Hong Kong on Sunday, for the first time in three years.
Ferry services between the city and the gambling hub of Macau will resume on the same day.
Hong Kong's Cathay Pacific Airways said on Thursday it would more than double flights to mainland China. Flights to and from China remain at a tiny fraction of pre-Covid levels.
The WHO has warned that the holiday, which usually brings the biggest human migration on the planet as people head home from cities to visit families in small towns and villages, could spark another infection wave in the absence of higher vaccination rates and other precautions.
One region poised to be a major beneficiary of China's opening is Southeast Asia, where countries have not demanded that Chinese visitors take Covid tests.
Except for airline wastewater testing by Malaysia and Thailand for the virus, the region's 11 nations will treat Chinese travellers like any others.
Thailand's health minister said on Thursday that all visitors to Thailand must show proof of at least two Covid-19 vaccinations, according to the Bangkok Post.
As many as 76% of Chinese travel agencies ranked Southeast Asia as the top destination when outbound travel resumed, according to a recent survey by trade show ITB China.
Reuters, with additional editing by Vishakha Saxena
Also read: