Beijing's new export restrictions on two key chipmaking metals and a growing risk of similar curbs on the country's supply of rare earths has rekindled global efforts to 'de-risk' and reduce reliance on China.
Firms across the globe have been scrambling to assess the impact on supply chains from the restrictions China announced this week, a retaliatory measure to efforts by the US and its allies Japan and the Netherlands to hobble Chinese semiconductor and artificial intelligence (AI) capabilities.
Meanwhile, a top Chinese trade advisor warned the move was "just a start," leading analysts to expect similar measures on exports of rare earths, in which China accounts for 70% of global mine production.
The gallium and germanium products China cited are used in semiconductors, defence technologies and other high-tech industries. Similarly, rare earths are used in products from lasers and military equipment to magnets found in electric vehicles, wind turbines and consumer electronics such as iPhones.
That makes it crucial for global firms to find countries other than China for processing and sourcing key components.
"[China's] actions underscore the need to diversify supply chains," a US Department of Commerce spokesperson said in a statement. "The United States will engage with our allies and partners to address this and to build resilience in critical supply chains."
Cost worries
China is estimated to have 44 million metric tonnes of rare earth oxide (ROE) equivalent in reserves, or 34% of the world total, USGS data showed.
Vietnam, Russia and Brazil are estimated to have just over 20 million metric tonnes each, while India has 6.9 million, Australia has 4.2 million and the United States has 2.3 million metric tonnes.
The country is also home to at least 85% of the world's capacity to process rare earth ores into material manufacturers can use, according to research firm Adamas Intelligence in 2019.
The United States sources most of its rare earth imports from China, but that dependence has eased to 74% between 2018 and 2021, from 80% during 2014 to 2017.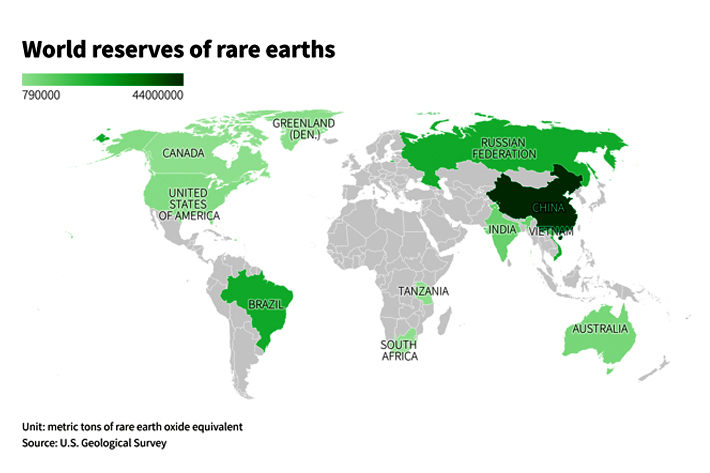 "China produces most of these raw materials but I'd argue blocking exports would also mean they will lose revenue and force the rest of the world to find alternative sources," said Stewart Randall, who tracks China's semiconductor sector at Shanghai-based consultancy Intralink.
The chemical properties of rare earths make them difficult to separate from surrounding materials, and processing generates toxic waste. China has been the go-to for companies because it is able to export processed minerals at a lower cost than other countries.
Lax environmental standards enabled the country to build its dominance in rare earths in recent decades as Western producers left the industry.
But if prices rise as restrictions take hold, companies would have another reason to shift supply chains.
Past pain
In 2010, China restricted exports of rare earths to Japan following a territorial dispute, sending prices soaring and Japan scrambling to find alternative sources.
Beijing then curbed global exports of rare earths, saying it was trying to curtail pollution and preserve resources.
Japan, the European Union and the United States successfully challenged China's action in a case at the World Trade Organization.
The episode led Japan, which had relied on China for virtually all of its rare earths, to find alternative suppliers to ease its reliance on China. It invested in Australian producer Lynas and had reduced the share of its imports of rare earths from China to 58% by 2018.
Managing shortages
Netherlands-based Nyrstar, majority owned by trading and logistics company Trafigura, said it was looking at germanium and gallium projects in Australia, Europe and the United States to help ease shortages created by China's curbs.
Beijing aims to limit exports of products made from the minor metals of gallium and germanium starting on August 1 to protect national security.
Sweden's Ericsson said it always aims to have a diversified supplier base and "as a next step we will make an in-depth analysis of the effect of these measures, and the implications on Ericsson."
In Taiwan, a senior government official said China's restrictions on exports of gallium and germanium marked "a new wave of retaliation" in a "tit-for-tat approach".
"Export controls accelerate, or are an accelerator, for countries including Taiwan, South Korea and Japan to reduce our dependence on China's supply of those critical materials," said Taiwan deputy foreign minister Roy Lee.
Fears 'short-lived'
Japan, which starts restrictions on chipmaking tool exports to China from July 23, said it was still examining the impact of Beijing's controls. South Korea said the short-term impact would be limited. Both countries are leading chipmakers.
Some industry watchers believed China's metals restrictions could trigger short-term supply snags and higher prices. Others said China would feel more pain from Washington's restrictions.
"The effect of restriction would yes be an increase in price, but not at all as painful for the rest of the world as chip restrictions are for China," said John Strand, from Copenhagen-based Strand Consult.
But US-based Navitas Semiconductor Corp, which makes chips that use a substance called gallium nitride, on Wednesday said it expects no adverse effects to its business from China's export controls.
"Significant sources of gallium are available worldwide, as it is a natural by-product in the production of other metals such as aluminum," the company said in a statement.
Taiwan's TSMC, the world's largest contract chipmaker, said on Thursday it does not expect any direct impact on its production from China's decision.
"We will continue to monitor the situation closely," it added, without elaborating.
Reuters, with additional editing by Vishakha Saxena
Also read: