China's economic activity picked up in the first two months of 2023 as consumption and infrastructure investment drove post pandemic recovery.
Industrial output in the January-February period was 2.4% higher than a year earlier, data by the National Bureau of Statistics (NBS) showed on Wednesday. The reading accelerated from a 1.3% annual rise in December.
Recovery in the world's second-largest economy came despite challenges of weak global demand and a persistent downturn in the property sector.
"Overall, the data confirms what more timely indicators, including the PMIs, had already suggested – that the fading of virus disruptions led to a rapid improvement in economic conditions at the start of the year," said Julian Evans-Pritchard, head of China economics at Capital Economics, in a note.
China abandoned its zero-Covid regime late in 2022 and this has started to reinvigorate its $18 trillion economy, that has suffered one of its lowest growth rates in nearly half a century. Analysts expecting momentum to improve further in coming months.
Improving sentiment
Retail sales in the first two months jumped 3.5% from a year before, reversing a 1.8% annual fall seen in December. The result was in line with hopes for an economic revival led by consumption, as flagging global demand weakened Chinese exports.
This data followed the signs of strength seen in February's purchasing managers indexes (PMIs) that was published on March 1.
The Covid-sensitive catering sector has notably reaped benefits from the reopening. January-February revenue surged 9.2% from a year earlier. This was compared to an annual 14.1% fall seen in December, when widespread infections kept people at home.
"We expect China's growth momentum to improve further in coming months, driven mainly by the ongoing consumption recovery and still-accommodative macro policy," analysts at Goldman Sachs said in a note.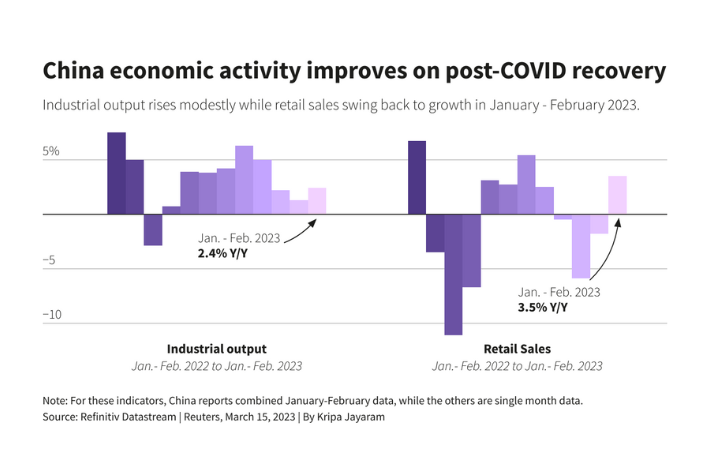 Nomura analysts pointed to shrinking exports and weakness in the property sector holding back recovery. They forecast first-quarter gross domestic product would be 3.6% higher than a year earlier, compared with the fourth quarter's 2.9% annual rise.
Fixed asset investment in the first two months was 5.5% higher than a year before, growing a little faster than the 5.1% annual rise for all of 2022.
Infrastructure investment in the two months surged 9.0% from a year before, driven by government spending aimed at supporting the economy. However property investment moved down 5.7%, reflecting the caution of home buyers and developers.
'Need time for repair'
To bolster growth, the central bank ramped up liquidity injections for a fourth month in a row on Wednesday, by rolling over maturing medium-term policy loans. Despite this, the bank still kept its policy interest rate unchanged.
China's National Bureau of Statistics publishes combined January and February data to smooth out distortions caused by the Lunar New Year holiday, which fell in January this year but was in February in 2022.
"The economy is gradually recovering this year, but it must be noted that the pandemic damaged corporate and personal balance sheets over several years, and they still need time for repair," NBS spokesman Fu Linghui told reporters.
Beijing has set a modest annual growth target of around 5% this year after significantly missing its target for 2022.
Fu said reaching around 5% would be challenging, "but we must be aware that we have the conditions, foundation, and confidence to achieve the growth target."
Reuters, with additional editing by Vishakha Saxena
Also read: