China has announced plans to increase its focus on the strategic rare earths industry as an intense trade and technology war with the West continues to gains pace.
China's state broadcaster said on Friday it would coordinate the exploration, development, utilisation and standardised management in the industry.
The country will also stringently crack down on illegal mining in the industry, the state broadcaster added.
Rare earths refer to a key group of 17 metals used in products from lasers and military equipment to magnets found in electric vehicles, wind turbines, and consumer electronics such as iPhones.
China is the world's largest supplier of rare earths. It accounted for 70% of global mine production of rare earths in 2022, followed by the United States, Australia, Myanmar and Thailand, United States Geological Survey (USGS) data shows.
That dominance in rare earths supply chains, however, has been challenged by continued efforts made by countries outside China to diversify supply chain to reduce dependence on China.
The effort have gained pace after China announced export restrictions on gallium and germanium, two metals used widely in the semiconductor industry. Beijing has since choked off international shipments of the two metals in August and September, trade data showed.
The curbs were widely seen as retaliation for US curbs on sales of advanced chips and chipmaking technologies to China.
In October, Beijing also announced restrictions on graphite, a metal key to making electric vehicle batteries. That heightened concern in the West that China might limit exports of other materials, including rare earths.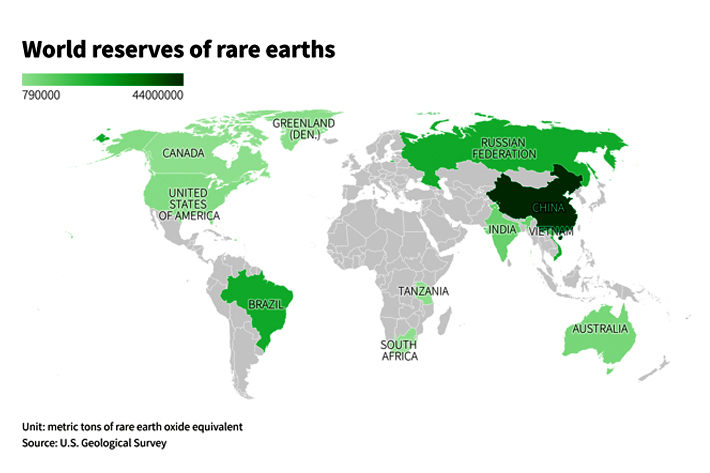 Rising rare earth trade
Beijing controls its supply of rare earths in the form of issuing quotas, typically twice a year, which is also a way to address the longstanding problems with illegal mining.
Its full-year rare earths quota for mining output as well as smelting and separation in 2023 stood at 240,000 metric tons and 230,000 tons, respectively, both posing a year-on-year increase of 14%, versus an annual increase of 25% in 2022.
China's exports of the 17 minerals in the first nine months of 2023 grew 6.6% on the year to 40,372 tons, customs data showed.
Meanwhile, its imports over the January-September period surged 49.2% on the year to 134,334 tons.
Rare earths have emerged as particularly significant to the global clean energy transition as countries around the world race to meet their carbon emissions goals.
Previous strategic moves
The minerals are lighter and can handle far higher temperatures than traditional magnets, in part due to their unique chemical properties. Those qualities maker them an essential component in key technologies such as the motor in an electric vehicle (EV).
"What's happened in China over many years is that they've invested heavily and cleverly in the processing capacity to convert the (rare earths) material all the way from the mine through to the magnet," Allan Walton, a metallurgy professor at the University of Birmingham said.
China's refining expertise has allowed the country to engineer rare earths prices at different stages in the processing chains to its advantage, including low prices for finished products, to inhibit foreign competition, analysts said.
"China made a strategic decision decades ago to develop its rare earth processing capability, despite the environmental consequences of the available technology," said Melissa Sanderson, president of American Rare Earths, which is developing several US rare earths projects.
Industry analysts say crucial innovation is now needed to break China's stranglehold on the rare earths sector without sacrificing environmental quality.
Reuters, with additional editing by Vishakha Saxena
Also read: