Chile awarded a lithium extraction contract to a Chinese company on Wednesay, shunning two of the world's biggest producers.
The contracts, worth a total of $121 million, went to China's BYD Chile and Chile's Servicios y Operaciones Mineras del Norte, the minerals ministry said.
The two companies would be awarded the right to extract 80,000 tonnes of lithium each. BYD bid $61 million for its lot, while Mineras del Norte bid $60 million.
US Albemarle, which produces 19% of the world's lithium, and Chile's SQM, which extracts 17%, were both unsuccessful in their tenders.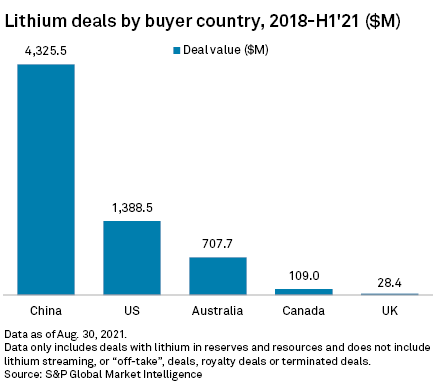 Chile is the world's second-largest producer of lithium after Australia, with 32% of the global market, according to the mining ministry.
The particularly low-density metal is primarily used in lithium ion batteries for electric cars and mobile devices.
"The entry of both companies will increase the dynamism of the local lithium industry so that Chile can regain its position on the world stage," the mining ministry said.
It noted that the quotas awarded amount to 1.8% of Chile's "known lithium reserves."
In the face of mounting battery demand from electric vehicle sales, the robust acquisition drive led by Chinese companies in recent years has positioned China with increasing control over the world's lithium market.
China-based mining and battery giants have placed winning bids on five development-stage lithium projects valued at $1.58 billion, not including off-take and royalty deals, according to an analysis by S&P Global Market Intelligence.
China's lithium carbonate imports jumped 193.5% month on month and 59.8% year on year to 10.48 billion tonnes in October 2021, the country's customs data showed.
Its lithium hydroxide imports soared 109% on the month and 116 times on-year to 829 million tonnes during the same period, according to the data.
Meanwhile, its lithium hydroxide exports to South Korea and Japan were at 4.14 billion tonnes and 2.02 billion tonnes, respectively, in October.
AFP with additional editing by George Russell
READ MORE:
WATCH MORE: