Chinese President Xi Jinping's visit to the United States and a subsequent meeting with Joe Biden has managed to score several brownie points for the authoritarian leader — even if it didn't result in some reprieve from Washington's relentless chip curbs.
As he met top American business executives for dinner on Wednesday night in San Francisco, Xi was greeted with not one, but three standing ovations.
The high-security dinner was a chance for American firms to hear directly from China's leader as they search for ways to navigate the country's serious economic slowdown, a US push to "de-risk" some American supply chains from it, and uncertainty caused by Beijing's expanding security rules.
Executives from US corporate giants such as Apple's Tim Cook, BlackRock's Laurence Fink, Broadcom's Hock Tan, Bridgewater Associates' Ray Dalio and Pfizer's Albert Bourla were at the dinner tables.
Xi also met Tesla CEO Elon Musk, telling him that he supports the company's development in China.
The dinner courted controversy earlier due to reported high ticket costs for companies seeking to brush shoulders with Xi. But it attracted nearly 400 people, including some hand-picked by Beijing.
The attendees also included government officials such as US Commerce Secretary Gina Raimondo and academics.
Xi Jinping takes the stage for a dinner of business leaders in San Francisco pic.twitter.com/aBZGO5gHpy

— John Hudson (@John_Hudson) November 16, 2023
'Savvy' PR
At the event, Xi told business leaders that China was ready to be a "partner and friend" to the US. He added it was wrong to view China as a threat and play a zero-sum game against it.
His speech was aimed, in part, at soothing nerves jagged by crackdowns, fines and raids on overseas firms and exit bans and even detentions of various foreign executives.
The ruling Communist Party has been battling political intrigues that have raised questions about Xi's decision-making, including the sudden and unexplained removals of his foreign minister and defence minister.
Amid that turmoil and increasing tensions with the US, the world's second-biggest economy also reported its first-ever quarterly deficit in foreign direct investment.
Even so, analysts say Xi's speech alone is unlikely to dramatically alter US business sentiment about China.
But Gary Dvorchak, whose family hosted Xi in Iowa in 1985 as a young Chinese official, and who was invited by Beijing to attend the dinner, said Xi's appearance was savvy public relations.
"It humanises him and it gives him an ability to show a connection to the American people and bypass the American media," Dvorchak said.
"They use it when they need to bolster his support domestically or internationally."
Domestic agenda weighing on Xi
In his public remarks to Biden, Xi suggested China sought peaceful coexistence with the United States.
"Xi Jinping may have made the calculation that overhyping the American threat does China and his standing in the party and the party itself more harm than good," said Drew Thompson, a former Pentagon official who is now a scholar at the National University of Singapore.
"The fact that we are debating whether China is investible is a real problem for China."
The Chinese rhetoric seeks to show Xi to a domestic audience as Biden's equal and highlights his desire to stabilise ties as China grapples with a moribund economy, analysts say. It also sends a signal of approval to the bureaucracy and businesses on engaging with Americans.
"It reflects a very strong desire on the part of Chinese leaders to stabilise relations with the US and push for more cooperation," said Li Mingjiang, international relations scholar at the Rajaratnam School of International Studies in Singapore.
"There's this fundamental message in the Chinese narrative that the Chinese leader is capable of managing China-US relations … he is the one who gives instructions to the US and the American leadership on how to manage the bilateral ties."
 

View this post on Instagram

 
That sentiment was evident in Chinese state media's coverage of the meeting between the two leaders.
Xi's televised garden walk with Biden, and the largely respectful reception given to Xi by his American hosts, was highlighted in China's tightly controlled media to show a domestic audience that their president is managing the country's most important economic and political relationship.
"The international community watches with bated breath, recognising the weight of this meeting," the state news agency Xinhua said in an editorial.
Small sanctions win
During the business dinner, Xi also directed much of his speech toward the American people and spent little time on commercial relations with the US.
"I would like to let you know that China sympathises deeply with the American people, especially the young, for the sufferings that fentanyl has inflicted upon them," he said.
Biden and Xi earlier reached an agreement on working together to curb fentanyl production.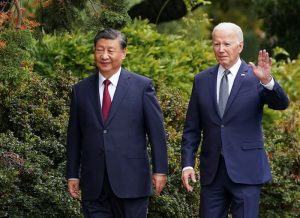 In return, the US government on Thursday removed a Chinese public security forensic institute from a Commerce Department trade sanction list, where it was placed in 2020 over alleged abuses against Uyghurs, a long-sought diplomatic aim for China. The move received criticism from Republican quarters in the US.
But it also underscored the possible nuances of Xi visiting the US for the first time in six years, and meeting his American counterpart after a long year of spiralling ties.
China recognises it's still necessary for its economic progress to have somewhat normal relations with the US and Western countries, professor Li Mingjiang said.
"It's the fundamental driving force behind the meeting."
But with key issues like US sanctions on chip exports still unresolved, several Chinese users voiced criticism on social media against the rhetoric of improving relations.
"Where did the relations improve? Tariffs, chips, studying overseas, none of these are mentioned."
Reuters, with additional editing by Vishakha Saxena
Also read: