Chinese carmakers are grabbing an increasing share of the Russian auto market, following the departure of Western carmakers after the invasion of Ukraine.
In June, 40,000 Chinese cars were imported and they now account for nearly half – 49% – of Russia's market, up from 31% late last year.
That's a big increase, compared with China's pre-war share of just 7% in June 2021, according to data from analytics firm Autostat.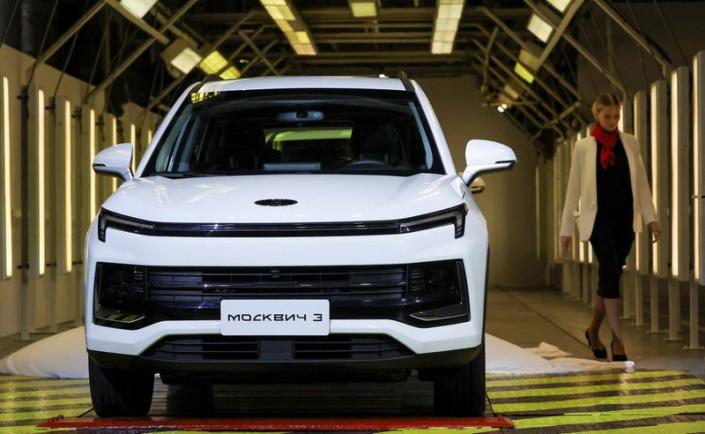 China's JAC Sehol assembled in Moscow, sold as Moskvich 3s
The relaunch of a classic Soviet-era car, the Moskvich, by a state-owned company in November is one example of the changes in Russia's car industry.
This feat was celebrated by Moscow mayor Sergei Sobyanin as showing the resilience of Russia's auto industry to Western sanctions.
"This is a historic event," Sobyanin said as the Moskvich was unveiled at a factory the Moscow government took from French carmaker Renault last year for just one rouble ($0.01).
"Many people thought it was the end of the Russian car industry."
But the rebirth of the Moskvich is also a sign of China's growing sway over an important sector of Russia's economy.
The cars rolling out of the vast Moscow Automobile Factory Moskvich in the south of the Russian capital bear no resemblance to the boxy metallic Moskvich models of the Soviet era.
The sleek four-door SUVs featured engine parts and upholstery from China's JAC Motors, clearly visible. Two sources, who asked not to be identified as they are not authorised to speak to the media, said the Moskvich 3 model is a JAC Sehol X4 assembled in Moscow using kits purchased from a Chinese partner.
Moskvich said in a statement last month its 3 and 3e (electric) models are produced using large-unit assembly – where cars are built at a manufacturing plant abroad, before being exported and finalised in Russia. The company said it works with a "foreign partner" but did not confirm ties to JAC.
"Production localisation is gradually increasing," Moskvich said, adding that it hopes to start a second production phase later this year or early in 2024 involving welding and painting at the Moscow plant, incorporating a wider pool of local suppliers with Russian components.
JAC, based in the eastern province of Anhui, did not respond to requests for comment.
Western players used to dominate the market prior to the Russian invasion of Ukraine in February 2022, auto industry data has shown.
Chinese car exports up 520% in 2023
And it's a lucrative business. Chinese carmakers' exports of passenger cars to Russia in January-May 2023 increased 5.2 times year-on-year to almost $3.6 billion, according to Chinese customs statistics, including exports worth almost $1 billion in April alone.
Beyond these figures, Chinese firms are also increasing their sales in Russia with vehicle assembly at factories vacated by the likes of Renault and Nissan, Reuters found.
Two companies and four sources familiar with the matter said that six factories in Russia that were formerly owned by European, Japanese and US carmakers or assembled their vehicles are now producing Chinese models or have plans to do so.
Overall, the six factories have an annual capacity of around 600,000 cars, calculations show.
Russia's Industry and Trade Ministry did not respond to a request for comment.
Vladimir Bespalov, an independent expert on the automotive sector, said the growing presence of Chinese carmakers benefits Russia, enabling it to restart production at idled factories and keep workers employed. President Vladimir Putin said in 2020 the industry employed about 300,000 people.
"Some technologies will be transferred, some will be localised, but they will be not the most advanced technologies," said Bespalov. "But, considering there is nothing else, this is already quite a lot".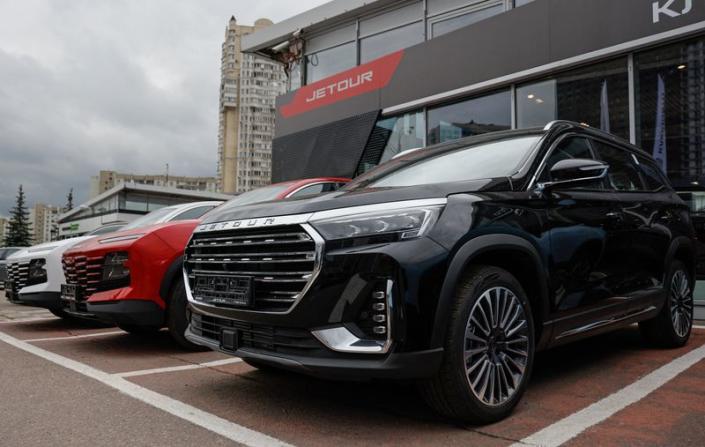 Six of top 10 brands now Chinese
After a chaotic decade following the collapse of the Soviet Union in 1991, Russia encouraged Western carmakers to build factories. It offered subsidies to those performing operations such as stamping, welding and painting locally, as well as incentivising them to produce components in Russia.
By 2021, domestic production was running at around 1.4 million passenger cars – around half its installed capacity. That slumped to just 450,000 last year – the industry's worst showing since the collapse of the Soviet Union – as Western firms withdrew in the wake of the Ukraine war.
Domestically-produced cars now account for less than 40% of Russia's car market, the government has said, down from 70-75% before Moscow's invasion of Ukraine.
"Undoubtedly, the expansion of Chinese carmakers on the Russian market will continue," said Andrey Olkhovsky, the head of dealership chain Avtodom. "There are no alternatives for Russia's automotive industry."
Avtodom, which bought Mercedes-Benz's subsidiaries in Russia, is in talks with several Chinese automakers about assembling a premium Chinese car at the German carmaker's old Moscow factory and a partner could be announced by year-end, Olkhovsky said in an email.
It is a radical change of fortunes for Chinese carmakers in Russia. Production of Chinese vehicles only began in Russia in 2019 with the arrival of Chinese automotive company Great Wall Motor.
Sales of its Haval cars, produced at its Tula factory, account for almost 10% of the Russian market now. Great Wall declined to comment for this article.
Six of the top 10 brands by market share in Russia are Chinese automakers, such as Haval, Chery and Geely, according to monthly sales data for June from Autostat.
Less local input
Under the partnership with Chinese firms, less of the production at former Western factories is currently conducted in Russia, the sources said.
Russian carmaker Sollers said in November it had started producing Atlant and Argo vans at its Tatarstan plant around 440 kilometres (273 miles) east of Moscow, which previously produced Ford Transit vans.
Sollers did not mention a partner. According to another source, who asked not to be identified, JAC is also supplying assembly kits for the commercial vehicles.
The source, who works at a Sollers dealership, said the Atlant and Argo were rebranded versions of JAC's Sunray N25 and N35 models: "There are differences, yes. The logos on the steering wheel and hood." Sollers declined to comment.
Russia's top carmaker Avtovaz, which purchased Nissan's St Petersburg factory in February, has started production there of its Lada X-Cross 5 model in cooperation with what it calls an "Eastern partner".
A source close to the company said that China's FAW Group's Bestune T77 compact utility vehicle is being used to produce Lada cars there. FAW did not respond to questions. Avtovaz declined to comment.
Avtovaz has said publicly it plans to begin localising production in 2024, using parts from suppliers in St Petersburg and the Leningrad region.
State entities took over foreign assets
As Western companies withdrew from Russia last year, Moscow orchestrated the takeover of foreign assets by state-controlled entities to ensure production from the vital sector would continue.
The government, however, has largely glossed over China's significant role in the car sector's recovery from a 59% sales plunge last year, instead heralding the revival of well-known Russian brand names.
"The first step is the Moskvich in addition to Lada," Industry and Trade Minister Denis Manturov told RIA news agency last month. "I hope the Volga will follow them already next year."
The central bank is one of the few state bodies to acknowledge China's growing influence.
It noted in a mid-July report that several factories in central and northwest Russia that were idle last year are now producing "cars based on Chinese models … under their own brands".
"If in the past cars from Japan and Europe dominated, then now more than 70% of imports are from China," the report said.
With Russia's domestic production increasingly dependent on importing assembly kits from China, profits are beholden to the yuan exchange rate, a source close to one of the factories said.
"First thing in the morning you look at the yuan rate, because margins and prices depend on this," the source said.
Reuters with additional editing by Jim Pollard
ALSO SEE: