Chinese tourists landing in Bangkok on Monday got an enthusiastic VIP-style welcome with Thailand's new Prime Minister Srettha Thavisin on hand at the international airport to greet visitors from China and Kazahkstan.
Srettha is keen to boost the tourism industry via a special visa-free promotion, despite warnings from some sectors that criminals may take advantage of the policy to sneak into the country.
Dancers in traditional costume and puppeteers also put on performances for the bemused visitors, who arrived on a flight from Shanghai. Many stopped to take selfies with Mr Srettha.
Tourism is a crucial driver of Southeast Asia's second-largest economy, best known for its picturesque beaches and vibrant nightlife.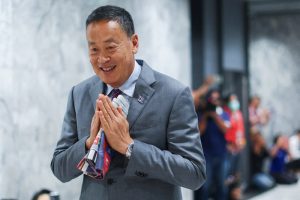 Reviving the industry that was hard hit by the pandemic is one of the priorities of Mr Srettha, who inherited an under-performing economy.
But China's own post-pandemic economic woes have meant that fewer tourists from what was once Thailand's biggest market are flying in, a situation Mr Srettha hopes the visa waiver can help to fix.
"We are confident this policy will stimulate the economy," the prime minister told reporters at Suvarnabhumi airport, adding that tourist safety will be prioritised.
The visa waiver scheme runs from September 25 until February 2024. The government expects 2.88 million Chinese visitors during that five-month period, slightly higher than the 2.34 million Chinese who visited so far this year.
Before the pandemic, China was the largest source of tourists, accounting for 11 million arrivals out of a record 39.9 million tourists in 2019, and spending 1.91 trillion baht (S$72.5 billion).
So far this year, Thailand has welcomed a total of 19 million visitors.
Srettha said bookings had surged by "multiples of ten" since the new policy was announced, while Tourism Authority head Thapanee Kiatphaibool said they expect an additional 2.9 million visitors over the five months that the policy will last.
Similar events were organized at key international airports such as Phuket, Chiang Mai and Don Mueang airports.
Moves to rev up Thai economy
Sretta is just back from a trip to New York, where he held talks with global financial heavyweights such as Elon Musk, BlackRock's Larry Fink and executives from major tech giants such as Microsoft and Google.
The PM said on Sunday they expect to receive investment of at least $5 billion from Tesla, Google and Microsoft.
"Tesla would be looking into an EV manufacturing facility, Microsoft and Google are looking at data centres," he said.
Thai officials have been offering incentives to EV and battery makers, with tax cuts for EV buyers, to cement its status as a key automotive hub in Southeast Asia.
The country, which has assembly plants for numerous Japanese carmakers such as Toyota and Honda, produces up to 2 million vehicles a year, half of which are exported.
Sales of electric vehicles are rising and accounted for 6.4% of all passenger car sales in the region in the second quarter, according to the Bangkok Post.
Reuters with additional reporting and editing by Jim Pollard
NOTE: The headline on this report was amended on Sept 25, 2023.
ALSO SEE: