Emergency measures have been undertaken in parts of central China to support farmers experiencing a severe drought, which extends from the Tibetan Plateau across the length of the Yangtze Valley and covers half the country.
Teams of drillers have been digging wells to provide water for crops in regions devastated by a heatwave that has dragged on for 70 days in parts of the Yangtze River basin.
There was some good news in recent days. On Wednesday, China's State Council allocated 10 billion yuan ($1.45 billion) to help rice farmers suffering drought, which officials say is a "severe threat" to the autumn harvest.
And on Thursday morning Typhoon Ma-on delivered downpours in the southeastern province of Guangdong and Hong Kong, and helped reduce temperatures in southern regions such as Jiangxi and Anhui, weather forecasters said.
On Thursday evening, there was some relief when rain was reported in parts of southern Sichuan province in the country's southwest. However, in a dramatic example of the swings in extreme weather the country is now encountering, the downpour was so heavy in some places that close to 30,000 people had to be evacuated, state broadcaster CCTV reported.
But areas that received ample rain appeared to be limited, and high temperatures have continued in the days since in Sichuan and the Yangtze River basin west of Shanghai.
Grain Producing Regions 'Very Dry'
Earlier this month, China issued a national drought emergency as record-high temperatures continued to scorch the regions along the Yangtze River.
On Wednesday, Jiangxi province raised its drought emergency response from Level III to Level IV, the highest of the country's four-tier ranking system. Jiangxi province is one of China's 13 major grain-producing regions.
The heat has struck the agriculture sector hard and caused a patchwork of factory shutdowns across the country.
In July alone, high temperatures caused direct economic losses to China of 2.73 billion yuan ($400 million), affecting 5.5 million people and 457,500 acres of land, according to government data published on Thursday.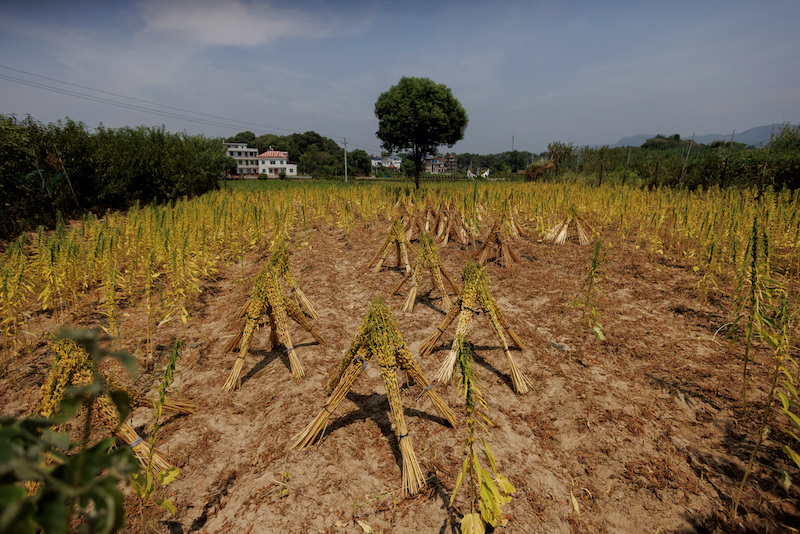 "These villages, all of them, are particularly dry," said Gao Pucha, 42, who led one drilling team in Dashan village near Jiujiang city in central Jiangxi province on Saturday.
"When we got the notice to drill wells, we got up early and worked late, more than 15 hours a day."
In another nearby village, a 72-year-old man surnamed Chen scoured the fields for ears of rice left over from the paddy harvester to take home and feed to his chickens.
"Sesame, corn, sweet potatoes, cotton in the drylands are all dried up," Chen said.
Chen added that only the rice fields could be filled with water from nearby reservoirs, "so they just filled them with a little bit of water and it was a little bit better."
Aside from the serious impacts on farmers and food production, the other big concern is that the drought has severely disrupted hydropower production in areas such as Sichuan province and this has forced China to fall back on coal-fired power, which is widely regarded to be driving the global warming which caused the current climatic crisis.
China's weather crises may intensify before the situation eases, if the country cannot speed up its transition to cleaner energy sources, experts say.
Jim Pollard, with Reuters
ALSO SEE: