Elizabeth Gaines will quit as chief executive of Fortescue Metals Group as the company seeks to become one of the world's largest green energy suppliers.
Gaines, pictured below, is one of only a few female executives in Australia's natural resources sector.
She will leave her position once a successor is found but will stay on the board as a non-executive director, Fortescue said on Friday.
The company did not provide a timeframe for the transition.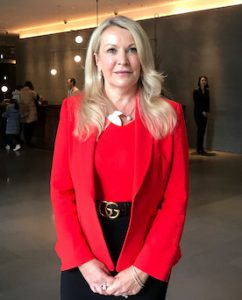 The miner is controlled by Andrew Forrest, Australia's richest man, who has announced ambitious targets to curb the environmental footprint of its iron ore by reinventing itself as a clean energy company.
Green Hydrogen
Its green energy unit, Fortescue Future Industries (FFI), this week signed an agreement with the North Kalimantan provincial government in Indonesia to explore the potential for renewable energy and green hydrogen projects.
FFI proposes to produce green hydrogen and green ammonia in North Kalimantan for domestic and export markets.
The unit also signed agreements with three groups of indigenous Canadians – Lheidli T'enneh First Nation in British Columbia, the Homeguard Cree First Nations in Manitoba and the Innu Nation in Newfoundland and Labrador – to explore green hydrogen.
FFI also plans to decarbonise the group's iron ore mine locomotive fleet, converting them to green ammonia.
The company said it would work with AGL Energy to undertake a feasibility study to convert the Hunter Valley's Liddell and Bayswater coal-fired power stations to generate green hydrogen from water using renewable energy.
SEE MORE: