The world economy is showing signs of the emergence de-dollarisation, strategists at JP Morgan said on Monday, amid rising efforts by Asian economies to challenge the American currency's hegemony.
JP Morgan said in a note that while overall dollar usage remains within its historical range, its usage was more "bifurcated under the hood".
"De-dollarisation is evident in FX reserves where [the dollar's] share has declined to a record as share in exports declined, but is still emerging in commodities," JP Morgan's Meera Chandan and Octavia Popescu said.
The dollar should, however, maintain its long-held dominance for the foreseeable future, they said.
JPMorgan's assessment is the most high profile of any large US bank although heavyweight asset managers such as Goldman Sachs Asset Management have also voiced views on the trend.
The note by the biggest bank in the US comes at a time when two of Asia's biggest economies – India and China – along with other BRICS nations, are pushing to establish mechanisms to settle trade in domestic currencies while also taking steps to internationalise their currencies.
Their push follows the impact of steep US interest rate rises in the aftermath of Covid-19 and the use of sanctions to freeze the likes of Russia out of the global banking system, prompting a re-think in countries such as Saudi Arabia, China, India and Turkey about diversifying to other currencies.
After Russia, nations are questioning "what if you fall on the wrong side of sanctions?" BNY Mellon strategist Geoffrey Yu said.
Yuan rising but long way to go
The dollar's share of traded currency volumes is just shy of record highs, at 88%, while the euro's share has shrunk by 8 percentage points in the last decade to a record low of 31%.
The share of the Chinese yuan, meanwhile, has risen to a record high of 7% from almost nothing 15 years ago.
JPMorgan's note on Monday estimated for global exports, the US share is now down to a record low 9%, whereas China was at a record high of 13%.
In global central bank FX reserves too, the dollar's share is down to a record low of 58%, albeit a level that is still by far the largest globally.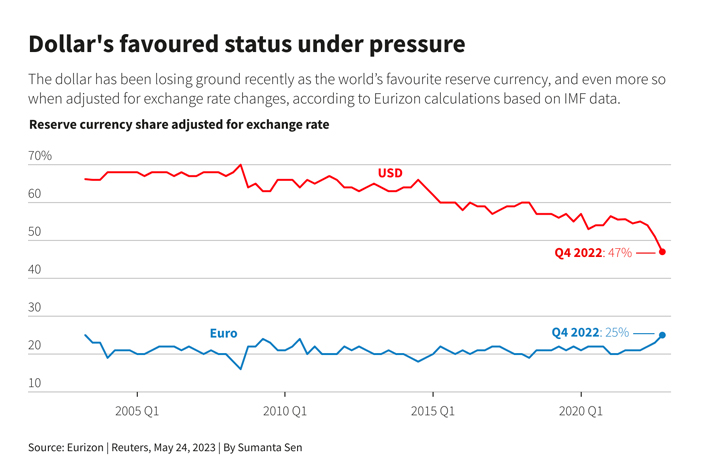 That share is lower, however, when accounting for gold, which now comprises 15% of reserves compared to 11% five years ago.
Progress in internationalising the yuan has been limited, meanwhile, JPMorgan added, and is unlikely to change much given the country's capital controls.
The "CNY" is 2.3% of SWIFT payments, JPMorgan's analysts said, versus 43% for the dollar and 32% for the euro.
Commodity trade impact
The greenback's share of central banks' foreign reserves hit a two-decade low in the final quarter of 2022. But the move has been gradual and it is now at almost a similar level as 1995.
"What happened in 2022 was a very sharp plummeting in the dollar share in real-terms," said Stephen Jen, CEO of Eurizon SLJ Capital Limited.
Jen noted the slump was a reaction to the West freezing half of Russia's $640 billion in gold and FX reserves following its 2022 invasion of Ukraine.
Trade is also shifting with India purchasing Russian oil in UAE dirham and roubles and China switching to the yuan to buy some $88 billion worth of Russian oil, coal and metals.
Chinese national oil company CNOOC and France's TotalEnergies completed their first yuan-settled LNG trade in March.
In April, Argentina also announced it would ditch the dollar to pay for Chinese imports using the yuan.
Reuters, with additional editing by Vishakha Saxena
Also read: