Foreign ministers from oil-rich Gulf states arrived in Beijing on Monday for a five-day visit as turmoil in neighbouring Kazakhstan raises concerns about China's energy security.
Officials from Saudi Arabia, Kuwait, Oman and Bahrain, plus the secretary general of the Gulf Cooperation Council (GCC), Nayef bin Falah al-Hajrah, will be in China until Friday, the Foreign ministry has said.
Recent unrest in oil and gas-rich Kazakhstan has raised concerns in China, which has long invested heavily in its central Asian neighbour's energy industry.
Oil prices gained 5% last week after the protests in Kazakhstan disrupted train lines and hit production at the country's top oilfield Tengiz, while a pipeline maintenance in Libya pushed its output down to 729,000 barrels per day from a high of 1.3 million bpd last year.
Kazakhstan's largest oil venture Tengizchevroil (TCO) is gradually increasing production to reach normal rates at the Tengiz field after protests limited output there in recent days, operator Chevron said on Sunday.
But analysts say that if Russia invades Ukraine, it could disrupt Russian crude exports to Europe and push oil prices higher.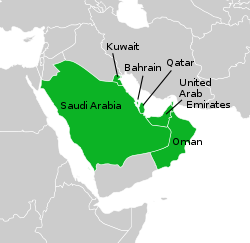 Diplomatic Flurry
The visit follows a flurry of diplomatic activity by China's Foreign Minister Wang Yi, including a tour of east Africa and visits to the Maldives and Sri Lanka.
The Foreign Ministry did not provide further details on the Gulf ministers' visit, which is the first group trip of its kind, but they are expected to discuss strengthening energy ties with Beijing.
China has sought in recent years to bolster its ties with the Gulf states, with President Xi Jinping in 2014 aiming to more than double trade with the region by 2023.
State-owned newspaper Global Times said the visit may also "make breakthroughs" in talks about a China-GCC free-trade agreement.
The potential agreement was first tabled in 2004, with the two sides discussing in March last year the possibility of resuming negotiations.
Xi praised the Kazakhstan government's deadly crackdown on protesters as "highly responsible" in a message to leader Kassym-Jomart Tokayev last week, although it has since been revealed that 164 people were slain and nearly 8,000 arrested.
Fuel Export Quotas Cut
Last week, China more than halved the volume of export quotas for refined fuel – predominantly gasoline, diesel and aviation fuel – under the first allotment for 2022, while raising allowances for low-sulphur fuel oil by 30%, industry sources said.
The deep cuts to refined fuel were largely expected by the market and in line with the Chinese government's recent policy to curb excessive domestic refinery production amid a broad plan to reduce carbon emissions, the sources said.
Quotas for refined fuel exports totalled 13 million tonnes under the batch, down 56% from 29.5 million tonnes for the first allotment of 2021.
Most of the latest quotas were granted to state-run firms such as China National Petroleum Corp (CNPC), China Petrochemical Corp (Sinopec), China National Offshore Oil Company, Sinochem Group and China National Aviation Fuel, the sources said.
Separately, the government issued 6.5 million tonnes of quotas for exports of low-sulphur fuel oil, used primarily as marine bunker fuel. That was up 30% from the 5 million tonnes released in the first batch of 2021.
"The timely release of LSFO quota lends support to a further increase in Chinese production of the marine fuel … and a reflection of China's drive to establish itself into a bunker fuel hub in Northeast Asia," Chinese commodities consultancy JLC said in a research note on Tuesday.
AFP and Reuters with additional editing by Jim Pollard
ALSO READ: