India does not want the G20 to discuss fresh sanctions against Russia over its invasion of Ukraine, government sources said on Wednesday.
The country is hosting a meeting of the G20 finance ministers on Thursday, the first major event of India's one-year presidency. The United States and allies were looking to push for tougher action against Russia during the meet.
G20 officials said India is also pushing to avoid using the term "war" to describe the Ukraine assault in official communique. Russia's invasion of Ukraine will enter its second year on Friday as the meeting starts.
"India is not keen to discuss or back any additional sanctions on Russia during the G20," one of the Indian officials said.
"The existing sanctions on Russia have had a negative impact on the world."
India has maintained a neutral stance on the war, refusing to blame Russia for the Ukraine war. It claims to be seeking a diplomatic solution while significantly increasing its Russian oil purchases.
According to Indian sources who are directly involved in the meeting between finance chiefs, the macroeconomic impact of the war will be up for discussion.
Diplomacy 'the way forward'
Delegates from at least seven G20 nations said India tried to form a consensus to call the Ukraine conflict a "crisis" or a "challenge" during negotiations over the group's joint communique. The discussions were pushed into Thursday without conclusion, they said.
US Treasury Secretary Janet Yellen "will be very firm" in condemning Russia's invasion of Ukraine during the meetings, regardless of how it is described in the communique, a senior US Treasury official said.
Wally Adeyemo, Yellen's deputy, said on Tuesday that the US and its allies will impose new sanctions and export controls on Russia in the "coming days." He said they would include crackdowns on companies and individuals helping Moscow evade existing sanctions.
Japan's finance minister also said on Tuesday that financial leaders of the Group of Seven (G7) nations would meet on the sidelines of the G20 meeting to discuss measures against Russia.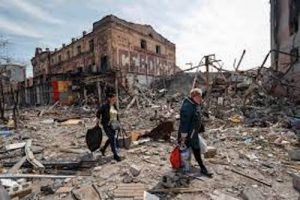 "Many nations are keen on their turn to speak on the Russia-Ukraine war," said a central bank deputy governor from one of the attending countries, speaking on condition of anonymity.
"Russia themselves want to discuss the economic impact of sanctions."
Spokespeople for the Indian government and the finance and foreign ministries did not immediately respond to requests for comment. The Russian embassy in New Delhi did not respond to a request for comment.
Earlier, Anurag Thakur, India's information minister, told a news conference after welcoming delegates: "Today's era is not for war. Democracy, dialogue and diplomacy is the way forward".
'Difficult' debt talks on agenda
The G20 finance ministers and central bank chiefs are also expected to discuss debt restructuring for distressed economies affected by Covid-19 and the Ukraine war.
India has drafted a proposal for G20 countries to assist debtor nations by asking lenders, including China, to take a large haircut on loans. China is the world's largest sovereign creditor.
The G20 debt talks this week will be "difficult", a US Treasury official said.
FM Smt. @nsitharaman meets US Treasury Secretary Ms @SecYellen ahead of the first #G20 #FMCBG meeting, in Bengaluru, today. The two leaders exchanged views on #G20 #FinanceTrack priorities under #G20India Presidency in 2023. (1/3) pic.twitter.com/Hl2ewXWC8S

— Ministry of Finance (@FinMinIndia) February 23, 2023
Yellen and German Finance Minister Christian Lindner are expected to attend the meetings. They are likely to press China to "quickly deliver" on debt relief for low and middle-income countries.
World Bank reform
The International Monetary Fund (IMF) also plans to hold a meeting with the World Bank, India, China, Saudi Arabia, the United States, and other G7 nations during the event.
It hopes to reach an agreement on common standards, principles, and definitions for resolving distressed country debt.
Cryptocurrency rules, multilateral development bank reform, international taxation, and securing finance necessary to tackle climate change are also on the agenda of the meetings.
IMF, World Bank and Asian Development Bank chiefs will attend these meets.
India is also planning to present a proposal to form an expert G20 group to look into World Bank reforms.
It also wants to discuss increasing the World Bank's lending capacity for climate financing in middle and low income countries.
Reuters, with additional editing by Vishakha Saxena
Also read: