Shares of multiple Adani Group companies continued to fall on Tuesday, despite the group seeking to reassure investors about its "strong cashflows" and saying its business plans are fully funded.
The total market capitalization losses exceed $120 billion since the report accused the Indian conglomerate of "improper" use of opaque tax havens, stock manipulation and having a "precarious" debt level.
India's market regulator confirmed on Monday that it is investigating the Hindenburg report that has battered Adani stocks.
The group, led by billionaire Gautam Adani, has denied the accusations, but the claims continue to erode the market value of Adani's seven listed stocks.
The turmoil dragged on on Tuesday, with shares in the group's listed companies extending their losses.
Adani Enterprises fell about 3.4%, Ambuja Cements dropped 3.1%, while Adani Gas, Adani Green Energy, Adani Power, Adani Transmission and Adani Wilmar were all down 5%.
Adani Ports and SEZ was the only firm that enjoyed a rise, of about 0.4%.
ALSO SEE:
'Astronomical valuations'
Part of the reason for this may be the renewed focus on Adani stock prices, and claims that even after the market rout the group's share valuations have been described as "astronomical", with prices-to-earnings ratios higher than top US companies such as Apple, Amazon and Walmart, according to a report by Benzinga.
"During trading hours on Monday, the seven core companies of the Adani Group had an average price-to-earnings (PE) ratio of 116 times their earnings in the past 12 months, according to stock exchange data," it said. "At the same time, the comparable PE multiples for Apple were at 25.6, 98.6 for Amazon and 44.41 for Walmart at the close of the last trading session."
Seeking to calm investors, the conglomerate said in a statement that the balance sheet of each of its independent portfolio companies was "very healthy", adding it had secure assets and strong cashflows, with its business plans "fully funded".
"We are confident in the continued ability of our portfolio to deliver superior returns to shareholders," Adani Group said in the statement emailed to Reuters.
A separate report on Monday that the group had halved its revenue growth target and planned to scale down capital spending was described by a company spokesperson as "baseless, speculative", without elaborating.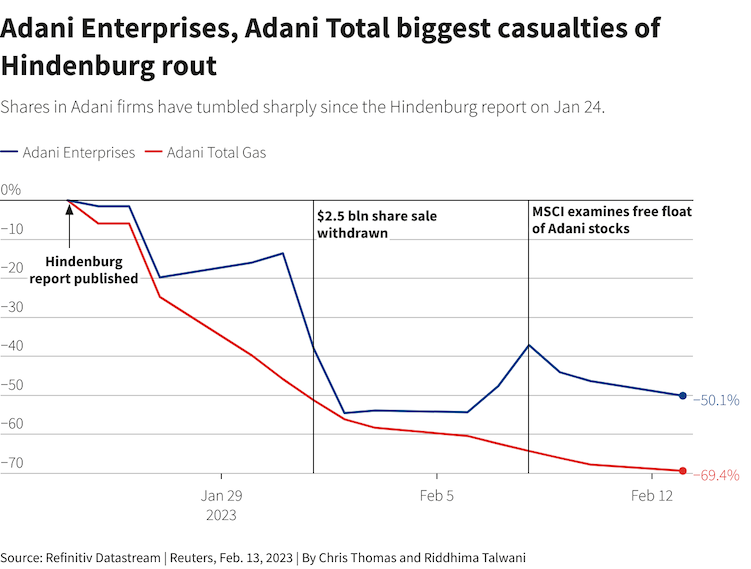 Court hearing on investor losses
The Adani crisis has sparked worries of financial contagion in India, protests in parliament with lawmakers demanding a proper investigation, ratings outlook downgrades of some Adani units and cast a shadow on the group's capital raising plans.
Gautam Adani has also lost his crown as Asia's richest person.
Adani Group's statement said "once the current market stabilises, each entity will review its own capital market strategy."
The Securities and Exchange Board of India (SEBI) has been probing the market rout, including examining trade patterns and any potential irregularities in the $2.5-billion share sale of flagship company Adani Enterprises that the Adani group was forced to cancel due to the stock's plunge.
SEBI confirmed the existence of the investigation for the first time in a Supreme Court filing.
"SEBI is already enquiring into both the allegations made in the Hindenburg report as well as the market activity immediately preceding and post the publication of the report," the regulator said in the filing, adding the matter was in early stages of examination.
During a court hearing on Monday where the Supreme Court heard public interest petitions that raise concerns about steep investor losses, India's Solicitor General Tushar Mehta, arguing on behalf of the government and SEBI, said there was no objection if a panel was setup to examine protection mechanisms for investors.
The judges told him to come back with the remit of such a panel, and scheduled a further hearing for Friday.
SEBI is set to brief federal finance ministry officials on February 15 on its investigation into the shelved share sale, two sources said. SEBI and the finance ministry did not respond immediately to requests for comment.
Last week, Moody's downgraded the ratings outlook for some Adani companies, while index provider MSCI said it would cut the weightings of some in its stock indexes.
Short-term debts to be repaid
All stocks of the Adani group are under pressure. Adani Total, a joint venture with France's TotalEnergies, has lost 70% since the Hindenburg report, while Adani Enterprises is down more than 50%.
Since the Hindenburg report's release, Adani Group has prepaid some of its total debt, put at $25 billion by Reuters, and $41 billion by Nikkei.
The group has appointed accountancy firm Grant Thornton for independent audits of some of its companies.
And two group companies are likely to repay their short-term commercial paper (CP) debt as they come due over the next few months, instead of rolling them over as is normal, two bankers and a company official said.
The two companies have about 50 billion rupees ($605 million) worth of CP due to mature through March, while exchange data shows the flagship Adani Enterprises has redeemed a total of 2.5 billion rupees of CP since January 25.
Adani Enterprises and Adani Ports regularly raise funds by issuing CPs – short-term debt instruments issued to meet working capital requirements.
"We will repay the CPs as and when they mature and are currently not looking to tap the short-term debt market," an official with one of the companies said on condition of anonymity.
Adani Ports has CPs worth 35 billion rupees due to mature through end March, data from information service provider Prime Database showed.
Adani Enterprises has CP worth close to 15 billion rupees due to mature over February-March and more than 2 billion rupees worth due for redemption from April through January 2024, the data showed.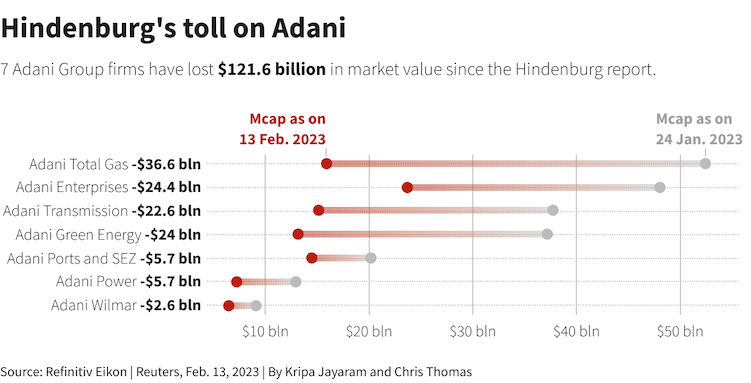 In Mumbai on Monday, around 100 political workers and activists of opposition Communist Party of India marched shouting anti-Adani slogans and holding posters with cartoons of Adani and Prime Minister Narendra Modi.
Opposition critics accuse Modi's government of giving undue favours to the Adani Group. The government and Adani both deny excessively close ties.
In recent days, concerns have also arisen about exposure of Indian and foreign lenders to the Adani Group. In its rebuttal of Hindenburg's allegations, the conglomerate had pointed to its international banking relationships as a sign of its strength.
Singapore's DBS Group said on Monday it had a S$1.3 billion ($976 million) exposure to Adani group companies, out of which S$1 billion was to finance its cement business. DBS said it was not concerned about its exposure to the group.
Reuters with additional editing by Jim Pollard
NOTE: Further details were added to this report on February 14, 2023 (to update share prices and add details on the repayment of short-term debts).
ALSO SEE: