A war of words has arisen between China and the Philippines over ownership of a reef in the eastern part of the South China Sea.
A claim by China on Monday that the Philippines had reneged on a "explicit" promise to remove the Sierra Madre – an old vessel grounded on the Second Thomas Shoal in the Spratly Islands – was derided by a security official in Manila as "a figment of its imagination".
A senior security official said on Wednesday the Philippines never promised China that it would remove the World War Two-era warship, which serves as a military outpost in the country's 200-mile economic exclusion zone (EEZ).
The Philippines maintains a handful of troops aboard the old warship on the reef, which Manila calls the Ayungin shoal. The ship was grounded in 1999 to bolster Manila's territorial claims in one of the world's most contested areas.
Years-long dispute over the shoal
"The Philippine government will never enter into an agreement where we will abandon our sovereign rights and jurisdiction over the Ayungin shoal," Jonathan Malaya, National Security Council assistant director general, told a press conference.
"For all intents and purposes, it is a figment of their imagination," Malaya said, challenging China to produce evidence of the promise.
China's embassy in Manila said it had no comment.
China and the Philippines have been embroiled for years in on-off confrontations at the shoal, the latest on Saturday. The Philippines accused China's coast guard of using water cannon to impede a resupply mission to the Sierra Madre.
The Philippines was "committed to maintain" the rusty ship on the shoal, Malaya said, adding it was "our symbol of sovereignty in a shoal located in our EEZ".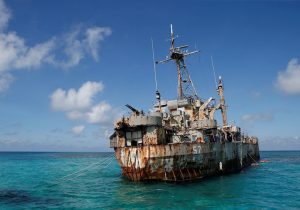 China's claim overlaps five states' EEZs
An EEZ gives a country sovereign rights to fisheries and natural resources within 200 miles of its coast, but it does not denote sovereignty over that area.
The Philippines won an international arbitration award against China in 2016, after a tribunal said Beijing's sweeping claim to sovereignty over most of the South China Sea had no legal basis, including at the Second Thomas Shoal.
China has built militarised, man-made islands in the South China Sea and its claim of historic sovereignty overlaps with the EEZs of the Philippines, Vietnam, Malaysia, Brunei and Indonesia.
Jay Batongbacal, a maritime expert at the University of the Philippines, said control of the Second Thomas Shoal was not only strategic for China but it could be "another ideal place to build a military base."
Reuters with additional editing by Jim Pollard
ALSO SEE: