Leaders of the United States, Japan, India and Australia discussed ways to improve the supply chains of rare earths, semiconductors and materials needed for clean energy production at their summit in Washington, Australian Prime Minister Scott Morrison said.
Members of the Quadrilateral Security Dialogue, or 'Quad' nations, at their first in-person summit on Friday, agreed on a partnership to secure critical infrastructure, the White House said.
Australia, which is the world's biggest supplier of rare earths outside of China, will intensify its cooperation with its three allies and looks set to play a key role in supplying these elements to other members of the group. It is also a major supplier of minerals used in electric vehicle batteries, such as nickel, copper and cobalt.
The group wants to ensure  that China does not exert excessive control over the supply of minerals essential to modern technology, the Sydney Morning Herald reported.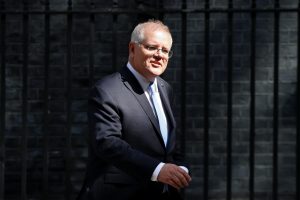 Morrison told reporters after the meeting Australia's raw minerals would be connected with manufacturing and processing capabilities, and with end users in the United States, India and Japan, according to a transcript released on Saturday by his government.
The other Quad leaders expressed appreciation for Australia's role in supplying critical materials "because that is a necessary supply for the many industries and processing works that they operate themselves", Morrison said.
"On critical minerals, Australia is one of the biggest producers, but we believe we can play a bigger role in a critical supply chain that is supporting the technologies of the future."
Australia will also host a clean-energy supply chain summit next year, aiming to develop a roadmap for building such supply chains in the Indo-Pacific region, he said.
The Quad also discussed ways to better secure the supply of semiconductors, Morrison said, as global carmakers and other manufacturers have cut production in recent months due to the shortage made worse by a Covid-19 resurgence in key Asian hubs that manufacture computer chips.
"This is an ecosystem we want to create and we want to do that… in the region," the Australian PM said.
While the Quad leaders did not publicly refer to China, they repeatedly insisted on rules-based behaviour in a region where China has been trying to flex its muscles. Beijing has criticised the group as "doomed to fail."
US TO REVIEW MAGNETS POLICY
Meanwhile, the Biden administration will investigate the possible national security risks of over-relying on imports of certain magnets used in fighter aircraft and missile guidance systems as part of a global supply chain review, the Commerce Department on Friday.
The neodymium-iron-boron (NdFeB) permanent magnets are used in a variety of other equipment, including electric vehicles, wind turbines, computer hard drives, audio equipment and MRI devices, it added.
NdFeB magnets are a type of rare earth magnet essential to building weapons, including Javelin missiles made by Raytheon Technologies Corp and Lockheed Martin Corp.
But nearly all of the world's production of these specialized magnets takes place China. The United States long ago ceded its position as the world's largest manufacturer of the magnets, even though a US Naval Research Laboratory scientist invented them in the early 1980s.
In late 2019 the Pentagon sought proposals to cache a rotating six-month supply of NdFeB magnets. The move was criticized at the time for not offering financial support for NdFeB magnet manufacturing, which industry analysts and executives saw as a short-sighted misstep.
The Pentagon has funded some US rare earth mining projects, including one in California operated by MP Materials Inc. MP relies on China for final processing of its rare earths, but has said it is working towards full processing at its mine and eventually making rare earth magnets in the US.
The Las Vegas-based company said it looks "forward to participating" in the Commerce Department review and that it "holds a deep conviction that private entities in the United States can achieve commercial (rare earth) success."
A bill introduced in the US House of Representatives last month proposes extending tax credits to companies that domestically produce rare earth magnets.
The Commerce Department called for public comment related to the probe to be submitted up to November 21, and has until June 18 to notify President Joe Biden if it finds the "magnets are being imported into the United States in such quantities or under such circumstances as to threaten to impair the national security."
It said the magnet probe is the first one launched under the Biden administration, which had initiated a widespread supply chain review to address bottlenecks affecting numerous industries, including transportation, logistics, construction materials and housing.
Commerce Secretary Gina Raimondo said the probe would help "determine whether US reliance on imports for this critical product is a threat to our national security."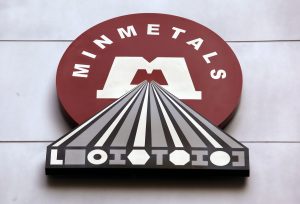 CHINA MINMETALS RARE EARTH REJIG
Meanwhile, a unit of China Minmetals Corp said on Thursday its parent company plans a strategic restructuring of rare earth assets with another state-owned firm, Chinalco, and the government of Ganzhou city.
China Minmetals Rare Earth Co Ltd and Chinalco Rare Earth & Metals Co are two of the "Big Six" state-owned enterprises (SOEs) that dominate the rare earths sector in China, the world's top producer of the 17 minerals used in consumer electronics and military equipment.
In a filing to the Shenzhen Stock Exchange, China Minmetals Rare Earth did not specify what sort of restructuring was under discussion, but such statements often refer to company mergers.
"The relevant plan has not yet been finalised and needs to be approved by the relevant authorities," the filing said.
Ganzhou, in southern China's Jiangxi province, is one of the country's two main rare earth production hubs. It is home to the headquarters of China Minmetals Rare Earth, plus China Southern Rare Earth Group, which is another of the Big Six.
"China has long sought to consolidate the rare earths industry beyond the six SOEs which control production and refining within the domestic Chinese industry," David Merriman, a manager at consultancy Roskill, said.
A three-way combination of the rare earth operations of Minmetals, Chinalco and the Ganzhou government would create China's second-largest rare earths producer by capacity, behind only China Northern Rare Earth Group, he added.
With capacity to produce around 45,000 tonnes per year of rare earth oxides, it would also control production in the Chinese regions of Guangxi, Hunan, Yunnan and Shandong and have operations in Fujian and Sichuan, Merriman said.
China Minmetals Rare Earth has seen its share price climb more than 230% in the year-to-date as rare earth prices jump on fears of tight supply.
• Jim Pollard and Reuters
ALSO SEE: