SoftBank Group reported a net loss of 1.7 trillion yen ($13.12 billion) for the year ended in March as the Japanese investor suffered losses from marquee tech stocks in its portfolio.
The result compared with a record 4.99 trillion yen profit a year earlier, when the boost from the listing of South Korean e-commerce firm Coupang saw SoftBank's earnings surpass global heavyweights including Warren Buffett's Berkshire Hathaway.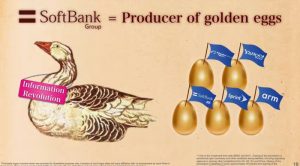 Coupang is trading 70% below its listing price and is one of a swath of portfolio companies, including ride-hailers Didi Global and Grab Holdings, that tumbled during the January-March quarter.
The slump is casting a shadow on founder and chief executive Masayoshi Son's strategy of heavy concentration in high-growth tech stocks increasingly out of favour with investors as interest rates rise.
SoftBank's Vision Fund unit reported a 2.97 trillion yen investment loss in the January-March quarter, according to Reuters calculations.
SoftBank's shares fell more than 8% to close at 4,491 yen on Thursday.
The 64-year-old billionaire has described SoftBank as a goose laying golden eggs but the pace of listings has slowed with one notable recent exception, Indonesia's GoTo, sliding since going public last month.
"There are growing concerns of a global economic slowdown as energy prices have surged in the wake of economic sanctions against Russia following its invasion of Ukraine, combined with the onset of monetary tightening in the US to curb inflation, and continued supply chain disruptions due to COVID-19," SoftBank wrote in a commentary accompanying its results.
To raise cash SoftBank is targeting a US listing of UK semiconductor designer Arm Holdings following the collapse of the sale to chipmaker Nvidia.
Last month, the head of Mizuho said he was "totally unconcerned" about SoftBank's financial health, despite losses in its portfolio.
Mizuho is the biggest creditor among a consortium of banks that lent SoftBank $8 billion this month towards the Arm listing.
Reuters, with additional editing by George Russell
READ MORE: