Professor Sean Turnell, an Australian economist and long-term adviser to Myanmar's deposed leader Aung San Suu Kyi, has been jailed for three years in a secret trial in Myanmar on Thursday, a source has revealed.
A court in military-ruled Myanmar jailed Suu Kyi and Turnell, for three years for violating a secrets law, the source said.
Both had pleaded not guilty to charges of violating the official secrets act, which carries a maximum sentence of 14 years.
"Three years each, no hard labour," said the source, who declined to be identified due to the sensitivity of the issue.
Suu Kyi was arrested on February 1, 2021, when Senior General Min Aung Hlaing staged a coup to depose her and members of the National League for Democracy government as they gathered to form a new parliament.
Turnell, who was detained in Yangon several days later, has been held in custody for the past 19 months, initially in Insein Prison, before being transferred to a prison compound in Naypyidaw, where Suu Kyi is also being held.
Turnell has also been charged with immigration violations, for which he faces up to five years in prison. The court is expected to rule on that case on Thursday, according to a second source and media reports.
Nobel laureate Suu Kyi has already been sentenced to at least 23 years in prison in separate cases, mostly related to corruption charges. She denies all accusations against her.
Opponents of the military say the charges against Suu Kyi are aimed at blocking her from ever getting involved in politics again and challenging the military's grip on power.
The case against Turnell – a professor of economics at Macquarie University in Sydney, whose work focused on reducing poverty – appears to be based on documents found in his possession.
He reportedly told the court the papers were not classified, but simply economic advice to the civilian government, according to the ABC.
Observers say he has been a victim of "hostage diplomacy" to neutralize a regional power from taking a firmer stance against the military takeover.
His wife, Ha Vu, who is based in Sydney, said she and her family were "heartbroken" at the verdict and called for him to be deported.
"Sean has been one of Myanmar's greatest supporters for over 20 years and has worked tirelessly to strengthen Myanmar's economy. Please consider the contributions … and deport him now," she said in a Facebook post.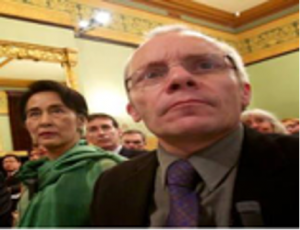 Australia Calls for Turnell's Release
"The Australian government has consistently rejected the charges against Professor Turnell. (It) rejects today's court ruling … and calls for his immediate release," Foreign Minister Penny Wong said in a statement.
Australian consular officials tasked with assisting Turnell were denied access to the court, Wong said.
The Australian government has ended military cooperation with the Myanmar army and downgraded diplomatic relations.
An analyst for the International Crisis Group think tank, Richard Horsey, called the proceedings "a show trial".
"For Sean the hope now must be that – having already been in detention for almost 20 months – he will be released soon from this terrible ordeal and reunited with his family," he said.
Meanwhile, the situation in many parts of Myanmar plagued by conflict remains dire. More than 2,300 people have been killed, including four democracy activists executed in July by the regime, while more than 15,000 are detained in custody.
In Sagaing and Magwe in the country's northwest, where anti-junta armed resistance is strongest, the military is alleged to have killed nearly 800 civilians and burned down almost 26,000 houses since authorities cut off internet access to towns.
The economic gains from a decade of opening up to the world have been completely eroded, analysts say.
By Jim Pollard with Reuters
ALSO SEE: