(ATF) The Asia-Pacific region, which stretches from Australia to the Indian Ocean, and north to China, Japan, Taiwan, and South Korea, has historically been known for having the most coal intensive footprint on the planet, with associated health and environmental concerns. The region includes two of the world's most populous countries, China and India, and as such its largest coal users.
Smaller countries in the region, such as Vietnam, the Philippines, Indonesia and others, still rely heavily on coal, the dirtiest burning of all fossil fuels, needed for both power generation and industry. That, however, is changing, at least according to a new report released on Friday.
The renewable power development pipeline has soared across Asia Pacific, IHS Markit said in its new Renewable Additions Index. Around a third of the power projects under construction, about 80 gigawatts (GW), are set to generate wind, solar, hydro, and other types of renewable power across 16 key regional markets, the consultancy said.
Australia takes top spot with some 89% of capacity under construction being either wind, solar or biomass power. Japan and South Korea are ranked second and fourth, respectively, due to a large pipeline of offshore wind projects in both countries.
Vietnam takes the third slot, which may come as a surprise to many, given that coal still makes up the largest share of the country's energy mix. However, Hanoi recently promoted feed-in-tariffs to attract solar and wind power investment in the two sectors.
On the other end of the scale, only 6% of Bangladesh's power capacity under development is from non-hydro renewable sources. That's slightly ahead of Myanmar and Thailand, which are 4% and 3%, respectively, according to the index.
China, for its part, offers a mixed bag. Not surprisingly, given its population of 1.4 billion people and the need to provide power for the world's second largest economy, the country remains the largest renewables market in absolute terms accounting for 58% of onshore wind and 33% of solar projects under construction in the region. However, the country only ranks eighth place overall because of its large coal and gas-fired power development pipeline. 
Complicating matters even more, Chinese President Xi Jinping pledged in September to make the country carbon neutral before 2060.  However, last year China approved a record number of new coal-fired power plant projects. It is also ramping up its natural gas and liquefied natural gas (LNG) infrastructure, prompting recently installed US President Joe Biden to call for Beijing to do more to reduce its immense carbon footprint, the world's largest.
Vietnam's energy crunch quandary
Despite ranking third on the new index, Vietnam still faces considerable headwinds in its effort to reduce its greenhouse gas (GHG) emissions. The quandary for Vietnam is two-fold, one of rising electricity demand due to economic growth and a dash to meet that demand and stave off projected brown-outs and black-outs in the country, particularly in the country's more populous southern regions. In the short-term, Vietnam has reportedly imported more electricity from neighboring Laos to pass down its electricity grid to the south.
Vietnam is still racing, however, to fill gas supply shortfalls that had been projected to begin as early as this year, but have slowed due to the impact of the Covid-19 pandemic. As such, Hanoi has approved as many as 22 new LNG-to-power projects in its newly released Power Development Plan (PDP8). More LNG/gas projects will likely be added over the foreseeable future.
Though gas, mostly used for power generation and industrial usage, is the cleanest burning fossil fuel, increased reliance on the fuel could put the country's Paris Climate Accord pledges in jeopardy.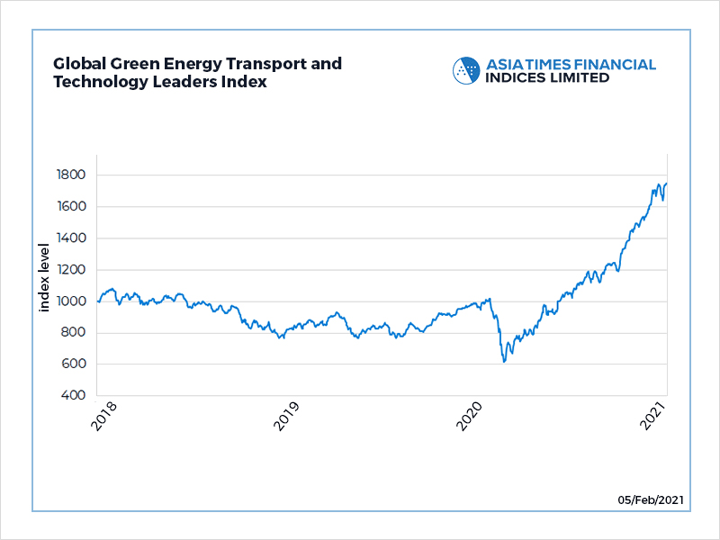 The Global Green Energy Transport and Technology Leaders Index created by Asia Times Financial in collaboration with ALLINDEX, is a benchmark that tracks shares of leaders in electric vehicle and renewable energy production and storage businesses.
Vietnam's uneven green energy push
Vietnam still lacks policy action for a green economic recovery, and has not focused efforts on emissions reductions, a recent Climate Action Tracker report said.
Meanwhile, even though it has recent positive renewable energy policy developments, this doesn't outweigh carbon intensive plans. 
As reflected in the IHS Markit index ranking, Vietnam's solar capacity has increased despite the Covid-19 pandemic and global supply chain disruptions. In fact, the country has met its solar target early. 
As such, Vietnam could become a regional leader for solar and has a large untapped potential for offshore wind, yet the coal pipeline is still expansive even considering draft plans to cancel some planned coal projects, the Climate Action Tracker report added.
Senior state officials said recently that coal-fired power will remain a key energy source for Vietnam for several decades to come despite the boost in renewables. Coal is set to make up 55% of the country's energy mix by 2025, while it plans to increase the number of coal-fired power plants from 32 currently to a troubling 51 by 2050.
At this juncture, Vietnam has hard decisions to make.
First, it can continue to over-rely on coal as a fuel source going forward, or it can continue to build out its gas and LNG infrastructure, with the intent of not only using the fuel to help meet its seemingly insatiable energy demand, but to use it as bridge fuel for more renewable infrastructure build-out, including green hydrogen.
Green hydrogen, as opposed to hydrogen, is produced by using renewables, usually solar and wind, instead of burning fossil fuels. While at this point the fuel hasn't reached economies of scale needed to be fully implemented yet, the country could take a cue from Japan and others that are already investing in hydrogen development while the sector reaches maturity, similar in many aspects to where the wind and solar industries were a decade ago.
ALSO SEE: