(ATF) Given the coronavirus-induced chaos, China's Belt and Road Initiative has largely fallen off the radar. Raging trade wars, project cancellations and postponements in some countries, such as Malaysia, coupled with other disputes – such as Australia wanting to pull out of the scheme and Baluchistan separatists attacking a railway under construction – has dented early enthusiasm for the estimated $1 trillion infrastructure initiative.
Beijing has also faced a wave of requests for relief of BRI-related debt as the pandemic has drained budgets.
Despite such setbacks, China's support for BRI has not waned since the programme was launched in 2013 and Beijing unveiled its ambition to build roads, railways, bridges, ports and utility networks in more than 100 countries to boost China's global influence and win international markets for Chinese companies. 
Zhao Lijian, a Chinese Ministry of Foreign Affairs spokesperson, said that despite the impact of the pandemic, international cooperation over Belt and Road still shows "full resilience", adding that China has signed 201 cooperation documents with 138 countries and 31 international organisations. 
In a statement broadcast on CCTV, Zhao said foreign trade and foreign investment remain basically stable. In the first three quarters of this year, China's total trade imports and exports with countries along the "Belt and Road" reached more than US$960 billion, a growth rate 0.8 percentage points higher than the overall national level. China's non-financial direct investment in countries along the route reached $13 billion, a year-on-year increase of 30%, 32 percentage points higher than the overall national growth rate.
Zhao said major projects are progressing smoothly. The entire China-Laos railway tunnel has been completed, while the Orange Line – an automated rapid transit system in Lahore, Pakistan – is open to traffic.
Among pending projects, China and Thailand have reached an agreement on the first phase of the Bangkok-Nong Khai high-speed railway that would form part of a route linking the Chinese city of Kunming with the Gulf of Thailand. 
Meanwhile, construction of the Jakarta-Bandung high-speed railway in Indonesia is on target and the main contract for the Hungarian section of the Budapest-Belgrade railway has taken effect, Zhao added.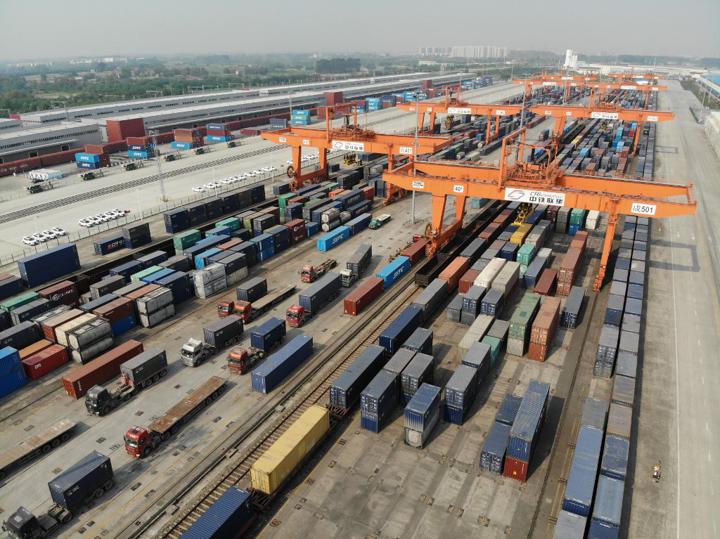 An aerial view of the Qingbaijiang Railway Port, where freight trains travel from China to Europe in part of the 'Belt and Road' scheme. This is in Chengdu in southwestern Sichuan province. Photo taken in April 2019 by Yi Fang / Imaginechina via AFP.
Goods traffic to Europe jumps
Goods traffic between Asia and Europe has also grown due to BRI projects, Zhao added. As of November 5, the number of China-Europe Express trains operated this year has exceeded 10,000, he said, which is more than the number of trains operated throughout last year.
The China-Europe freight trains transported 930,000 TEUs, a year-on-year increase of 54%, over a network that now covers 92 cities in 21 European countries. 
Zhao pointed to the freight system's role in the Covid-19 pandemic, transporting nearly 60,000 tonnes – or 8 million pieces – of medical equipment and supplies. The China-Europe Express has become the "channel of life" for China-EU anti-epidemic cooperation, Zhao said, adding that 150 countries and international organisations have received anti-pandemic assistance from China.
Zhao said the importance of the BRI during Covid-19 signalled that Beijing was eager to work with partners to uphold the initiative's principles of "extensive consultation, joint contribution and shared benefits".
He said the project's "openness [and] environmentalism" served to underscore the high standards that it had set for BRI projects, adding that the scheme would promote "international cooperation to bring more tangible benefits to people of all countries".
ALSO SEE: