Rapidly escalating tensions between India and Canada over the murder of a Sikh separatist leader in British Colombia have put at stake trade talks worth billions between the two countries.
The row, that spiralled this week amid tit-for-tat diplomatic expulsions from both countries, also threatens to envelop Canadian allies Britain, the US and Australia — all of whom are looking to ramp up economic ties with India in a bid to cut their China dependance.
At the root of the India-Canada row is Hardeep Singh Nijjar, a campaigner for an independent Sikh homeland in northern India, who was gunned down in Canada's British Columbia in June.
After frosty talks between Canadian Prime Minister Justin Trudeau and his Indian counterpart Narendra Modi at the G20 summit in New Delhi earlier this month, Ottawa said this week it was "actively pursuing credible allegations" linking Indian government agents to Nijjar's murder.
In an emergency statement to the House of Commons, Trudeau said any involvement of a foreign government in the killing of a Canadian citizen was "an unacceptable violation of our sovereignty".
On Tuesday, the Modi-government dismissed Canadian allegations as "absurd", and asked Ottawa to crack down on anti-India elements operating in its territory instead.
India rejects allegations by Canada:https://t.co/KDzCczWNN2 pic.twitter.com/VSDxbefWLw

— Arindam Bagchi (@MEAIndia) September 19, 2023
While the friction between the two countries, whose ties have been fraying for years, seems far from easing anytime soon, trade talks between the two have already taken a hit.
Bilateral commercial relations between India and Canada are worth $100 billion, which includes $70 billion of Canadian portfolio investment, according to Indian figures.
Key treaty on 'pause'
In a surprise move, Canada said early this month it had paused talks on a proposed treaty with India, just three months after both said they aimed to seal an initial pact this year.
A Comprehensive Economic Partnership Agreement (CEPA) between Canada and India could boost two-way trade by as much as $6.5 billion, industry estimates have shown. It is also likely to yield a GDP gain of $3.8 billion to $5.9 billion for Canada by 2035.
Furthermore, last week, Canadian Trade Minister Mary Ng said she would postpone a trade mission to India that was planned for October.
Fraying trade ties could threaten $8 billion worth of goods trade between India and Canada. While Indian exports to Canada touched $4 billion in 2022, imports from Canada were also worth $4 billion.
India's major imports from Canada include energy products such as coal, coke and briquettes, besides fertilisers. Meanwhile, India exports consumer goods, garments, engineering products such as auto parts, aircraft equipment and electronic items.
Energy trade holds biggest share
Canada's top exports to India in 2022 were fossil fuels and related products worth nearly $1 billion, followed by fertilizers worth nearly $748 million, and wood pulp and plant fibres worth about $384 million, according to Trading Economics/UN Comtrade data.
Canada's Canpotex is also among the biggest suppliers of fertiliser ingredient potash. Three companies from India, which relies solely on the import of the fertiliser, signed an MoU with Canpotex in September 2022 to import about 1.5 million metric tonnes annually for three years.
Pharmaceutical products, worth about $418 million, made up the bulk of Indian exports last year, followed by iron and steel products worth about $328 million and machinery, nuclear reactors and boilers worth about $287 million.
India's growing demand for imported lentils has also benefitted Canadian farmers, while Indian pharmaceutical and software companies have expanded their presence in the Canadian market.
Foreign investments also in the fray
Canada is India's 17th largest foreign investor, pouring in more than $3.6 billion since 2000, while Canadian portfolio investors have invested billions of dollars in Indian stock and debt markets.
The Canadian pension fund, CPP, had increased its investment in Indian markets to about $15 billion, in areas such as real estate, renewables and the financial sector by the end of last fiscal year in March 2023.
Other big pension funds with sizeable exposure to India include Caisse de dépôt et placement du Québec (CDPQ), which has investments worth C$8 billion ($6 billion) as of December 31, 2022, and Ontario Teachers' Pension Plan (OTPP), which had investments of more than $3 billion as of last year.
More than 600 Canadian companies, including Bombardier and SNC Lavalin, have a strong presence in India, while more than 30 Indian companies, such as infotech majors TCS, Infosys, Wipro have invested billion of dollars in Canada, creating thousands of jobs.
Indian students in Canada feel the heat
Since 2018, India has been the largest source country for international students in Canada.
In 2022, their number rose 47% to nearly 320,000, accounting for about 40% of total overseas students, the Canadian Bureau of International Education says, which also helps universities and colleges provide a subsidised education to domestic students.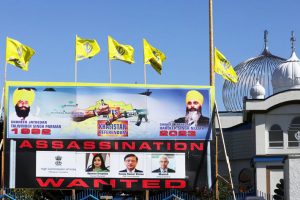 Many analysts say worsening India-Canada ties could affect the economic interests of thousands of Sikh families in India's Sikh-majority state of Punjab in the north, since they have relatives in Canada, who remit millions of dollars back home.
The share of Canada's Sikh population has more than doubled in 20 years to 2.1%, according to the country's 2021 census, as large number of Sikhs migrated from India in search of higher education and jobs.
Canada has the highest population of Sikhs outside their home state of Punjab in India, and the country has been the site of many protests that have irked India.
Risk of spillover to US, UK, Australia
New Delhi, meanwhile, has been long sensitive to Sikh protesters in Canada. In June, India criticised Canada for allowing a float in a parade depicting the 1984 assassination of Indian Prime Minister Indira Gandhi by her bodyguards, perceived to be glorification of violence by Sikh separatists.
Rising tensions led India's Modi to 'scold' Trudeau during the country's stint as the host of an annual G20 summit. Modi, who held bilateral meetings with many world leaders during the G20 summit, did not hold one with Trudeau.
Later, at a press conference in New Delhi, Trudeau said Canada will always defend "freedom of expression, freedom of conscience and peaceful protest."
Amid the longstanding issues, Canada's allegations of an Indian state-sponsored murder create a muddy situation for the UK, US and Australia — all of whom are Ottawa's close allies and also part of the "Five Eyes" intelligence-sharing alliance.
According to a report by The Washington Post, Canada previously approached its allies to "condemn" Nijjar's killing, but its requests were turned down.
Furthermore, on Tuesday, the UK said it will continue its talks with India, dispelling anxiety that Canada's allegations might weigh on a free-trade deal being negotiated by the two countries.
Australia and the US have, meanwhile, expressed concerns about Trudeau's allegations, with Washington reportedly having played a key role in gathering intelligence that linked Nijjar's killing to "New Delhi's agents".
Reuters, with additional inputs from Vishakha Saxena
Also read: