After a dramatic slump in economic growth in 2022 to one of the weakest levels in half a century, policymakers are keen to crank up support for domestic demand this year.
Some prominent academics have advocated big demand-side measures, such as 1 trillion yuan ($148.3 billion) or so in consumption vouchers – to bolster the spending power of China's large population 1.4 billion people.
That has raised hope that significant household stimulus measures could be announced at a parliamentary meeting in March.
However, key sources say consumer subsidies are likely to be modest.
Sources close to the policy discussions, said they expect China to stick more closely to its familiar playbook of policies to support key industries and splurge on infrastructure, to shore up jobs and incomes and eventually lift consumer sentiment off record lows.
"There are limited options to stimulate consumption," said one insider, who like the other sources spoke on condition of anonymity due to the sensitivity of policy debates. "The possibility of giving cash handouts is small."
The National Development and Reform Commission, the top state planner, did not immediately respond to a request for comment.
ALSO SEE:
Last year was dismal for Chinese consumers, who bore the brunt of harsh Covid curbs that were abruptly lifted in December. Retail sales fell 0.2%, the second worst performance since 1968, while per capita disposable income rose just 2.9%, the second smallest rise since 1989.
Many economists have argued for years that the world's No-2 economy should rebalance, relying more on domestic consumption and reducing its reliance on debt-backed investment, which now produces more debt than growth.
Reviving consumer demand quickly is even more critical for a convincing economic recovery this year – the country's exports are faltering amid a global slowdown and the crisis-hit property market is struggling.
But policymakers' apparent reluctance to veer too swiftly, or too far, from their old playbook highlights the difficulty of realigning the $18 trillion economy.
Since the Communist Party's Central Economic Work Conference in December, top policymakers have repeated their intention to boost consumers' spending power, without saying how.
President Xi Jinping said on Wednesday that China should take steps so that consumers "dare to spend without worrying about the future."
World Bank data shows investment as a share of China's GDP is almost 20 percentage points above the global average, while household consumption is almost 20 points below, a greater imbalance than Japan's in the 1980s, before its long stagnation.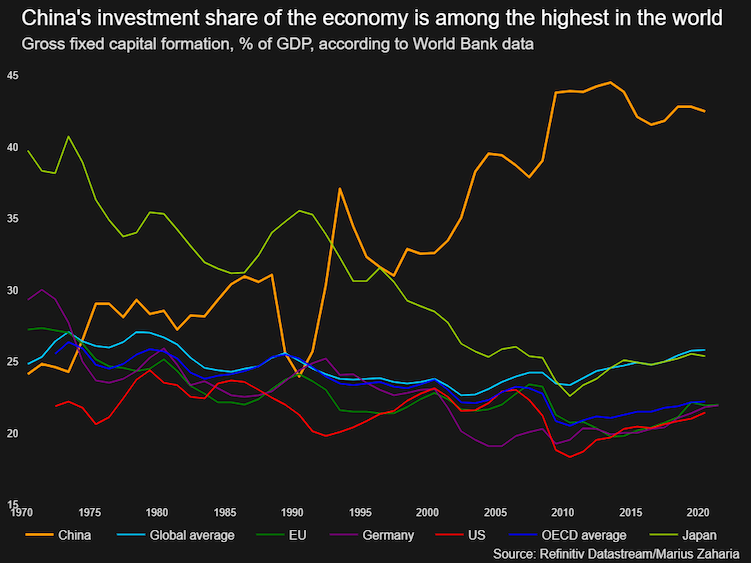 Growth needed
Change is easier said than done. Chinese leaders have signalled their intention to boost domestic consumption many times in the past decade, without much follow-through.
Policymakers worry that large cash handouts would worsen wealth inequality, lower productivity and fan inflation, the sources involved in internal policy discussions said.
"The government prefers to invest and launch projects," Guo Tianyong at Beijing's Central University of Finance and Economics said.
Given such concerns, arguments for Beijing-funded consumer vouchers in excess of 1 trillion yuan made by influential academics such as Yao Yang, dean of the National School of Development at Peking University, or for bolstering China's barely noticeable social safety net, are losing ground.
Advisers to Chinese policymakers worry that weakening demand in the West is endangering manufacturing jobs. They argue that a range of industries, including emerging technologies such as AI, require support and that infrastructure spending needs to continue if youth unemployment is to be brought down from near-record levels.
"We must guarantee economic growth of above 5% this year. If economic growth revives, companies will have money and people will have jobs and incomes," an adviser to the cabinet said.
3% budget deficit tipped
The government is expected to widen its budget deficit to around 3% of GDP this year to accommodate those spending needs, insiders said, adding to overall debt.
Some analysts say pent-up demand during the pandemic may be enough for consumption to grow with little policy support. Household savings jumped 7.9 trillion yuan last year to 17.8 trillion yuan.
Tesla said on Friday that its January China sales rose 18% from December, spurred by price cuts last month, and it is planning to step up production at its Shanghai plant.
But other market watchers warn that a large share of the rise in deposits may be explained by consumers' safety-first reallocations into bank deposits and that many such deposits have long-term maturities.
"The increased household deposits in China are unlikely to be fully transmitted to private consumption," ANZ economists wrote.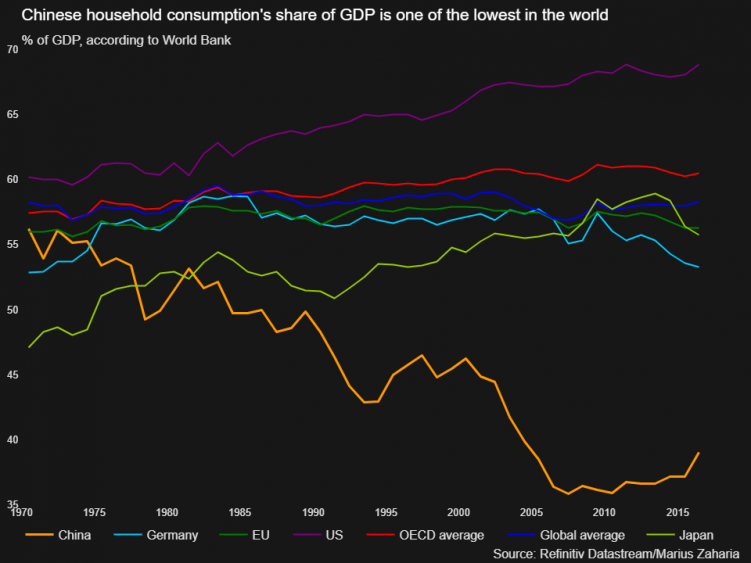 Policies 'will be modest'
Consumption-boosting policies still have their place on the agenda, but they are likely to be local and modest, government advisers said.
Several Chinese cities have already offered about 5 billion yuan in consumption vouchers and subsidies in total since December. The Jiangsu provincial government has pledged to subsidize shopping festivals, while other jurisdictions have promised to subsidize purchases of electric vehicles or senior care, local media reported.
"Calls for issuing consumption vouchers and direct subsidies are growing, but we should let local governments to do the job based on local conditions," a third source close to policy discussions said.
Reuters with additional editing by Jim Pollard
ALSO SEE: