Moves by India to get computer chips made on the subcontinent have failed to attract major tech companies so far, with three interested groups currently struggling to proceed with current technology partners.
But the Modi government hopes to revive investor interest by allowing greater time for applications for billions in chipmaking incentives.
India's IT ministry said on Wednesday the country will restart inviting applications, so companies will be able to apply until December next year, as opposed to the initial offer for incentives, which only had a 45-day window.
"It is expected that some of current applicants will reapply and new fresh investors will also apply," Minister Chandrasekhar said on Twitter.
ALSO SEE:
New era in manufacturing envisaged
The key setback to Prime Minister Narendra Modi's chipmaking goal has been the inability of companies, such as a joint venture between Vedanta and Foxconn that bid for India's $10 billion in semiconductor incentives, to hook a technology partner able to implement its promises promptly.
Modi made chipmaking a top priority for India's economic strategy as he wants to "usher in a new era in electronics manufacturing" by luring global companies.
India, which had hoped to have a semiconductor market worth $63 billion by 2026, received three applications last year to set up plants under the incentive scheme.
They were from the Vedanta-Foxconn JV; a global consortium ISMC which counts Tower Semiconductor as a tech partner; and from Singapore-based IGSS Ventures.
Applicants' proposed projects stalled
A $3-billion semiconductor facility planned in India by chip consortium ISMC that included Israeli chipmaker Tower as a tech partner has been stalled due to the firm's ongoing takeover by Intel, three people with direct knowledge of the strategy said.
ISMC is a joint venture between Abu Dhabi-based Next Orbit Ventures and Israel's Tower Semiconductor.
The three sources said the $3-billion chipmaking facility ISMC plans in southern Karnataka state is on hold as Tower cannot proceed to sign binding agreements as things remain under review after Intel acquired it for $5.4 billion last year. The deal is pending regulatory approvals.
A second $19.5-billion plan to build chips locally by a joint venture between India's Vedanta and Taiwan's Foxconn has also moved slowly as their talks to rope in European chipmaker STMicroelectronics as a partner are deadlocked, a fourth source with direct knowledge said.
The Vedanta JV plan is for a plant in Modi's home state of Gujarat, while IGSS also committed to a $3-billion plant in a separate southern state.
Talking about India's semiconductor ambitions, India's deputy IT minister Rajeev Chandrasekhar said in a May 19 interview the ISMC "could not proceed" due to Intel acquiring Tower, and IGSS "wanted to re-submit (the application)" for incentives.
The "two of them had to drop out," he said, without elaborating.
Tower is likely to reevaluate taking part in the venture based on how its deal talks with Intel pan out, two of the sources said.
ISMC consortium partners Next Orbit Ventures did not respond to a request for comment. Tower and Intel declined to comment. Singapore-based IGSS and India's federal IT ministry did not respond to requests for comment.
Vedanta setback amid upheaval in chip sector
Amid much fanfare, last September, the Vedanta-Foxconn JV announced its chipmaking plans in Gujarat. Modi called the $19.5 billion plan "an important step" in boosting India's chipmaking ambitions.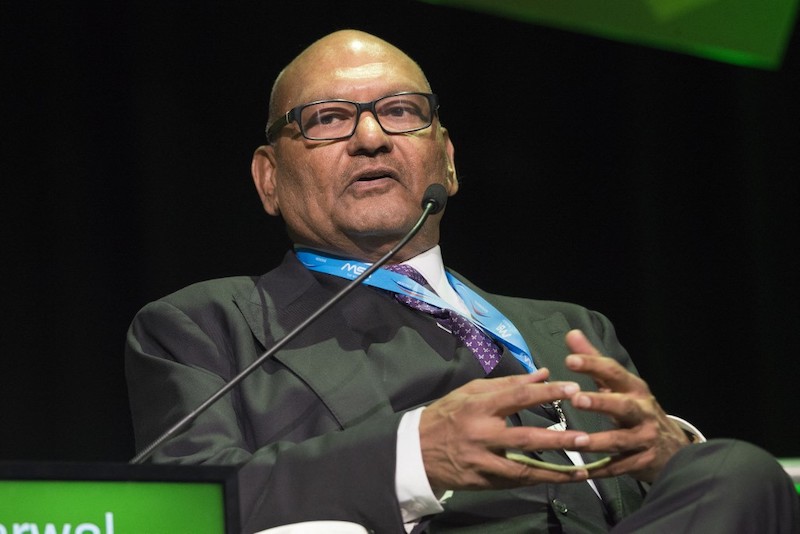 But things have not gone smoothly as the JV tries to hunt for a tech partner. The fourth source said Vedanta-Foxconn had got STMicroelectronics on board for licensing technology, but India's government had said it wants STMicro to have "more skin in the game" – like a stake in the partnership.
STMicro is not keen on that and the talks remain in limbo, the source added. "From STM's perspective, that proposal doesn't make sense because they want India market to first be more mature," the person said.
Deputy IT minister Chandrasekhar said the Vedanta-Foxconn JV was "struggling currently to tie up with a technology partner." STMicro declined to comment.
In a statement, Vedanta-Foxconn JV CEO, David Reed, said they have an agreement with a technology partner to transfer technology with licences, but declined to comment further.
Given the upheaval in the chipmaking sector, with governments and tech giants in the United States, China and Europe offering even bigger sums to lure chipmakers to their regions, these developments are perhaps not so surprising.
Most of the world's chip output is limited to specialist production centres in countries like Taiwan and South Korea, and India is a late entrant in a sector rocked by severe headwinds.
Reuters with additional editing by Jim Pollard
ALSO SEE: