A tiny but potentially deadly radioactive capsule was found in outback Western Australia on Wednesday after an extraordinary six-day search and public health alert by local officials, according to ABC News, which said the capsule was found by a vehicle fitted with a radiation detection device beside the Great Northern Highway near the town of Newman, over 1,000 kilometres north of the state capital Perth.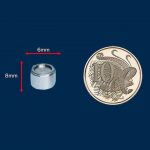 The discovery of the caesium-137 capsule, which fell off a truck transporting it from a Rio Tinto mine in the Pilbara region two weeks ago, was likened to finding a 'needle in a haystack', because the missing item – part of a radiation gauge commonly used in processing plants – was so small, the report said.
Read the full report: ABC News.
ALSO SEE: