The world's biggest carmaker Toyota Motor Corp has suffered a shock profit drop in the quarter that ended in June.
The Japanese car giant said on Thursday that its operating profit plunged by a worse-than-expected 42% in the first quarter, after auto production was hit hard by Covid-19 restrictions at its factories in China and the global shortage of computer chips.
Operating profit for the three months ended June 30 slid to 578.66 billion yen ($4.3 billion), falling far short of the average 845.8 billion yen profit estimated by 10 analysts, according to Refinitiv data.
In the same period a year earlier, Toyota reported a 997.4 billion yen profit.
Analysts were expecting a double digit profit fall, but nothing near the figure announced today.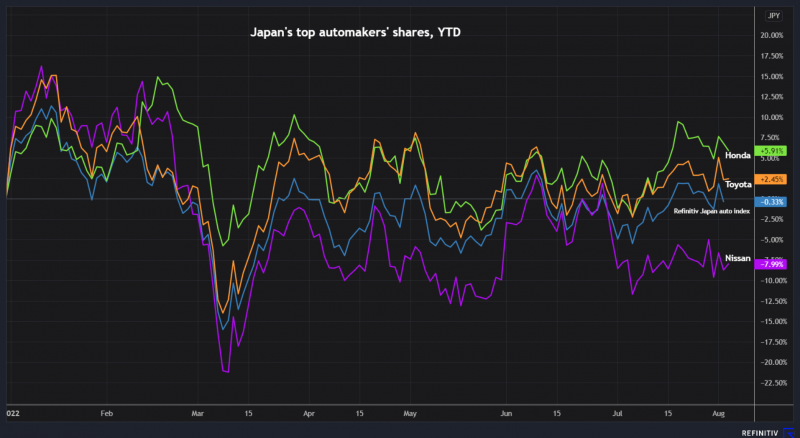 Sticks to Annual Forecast
Despite the quarterly drop, the automaker stuck to its forecast for annual operating earnings of 2.4 trillion yen in the 12 months through March 31, 2023.
The carmaker cut its monthly production targets three times during the April-June quarter, falling 10% behind its initial goals, due to shortages of semiconductors and the impact of Covid-19 lockdowns in China.
Toyota shares were down about 3.1% in afternoon trading following the release of its earnings.
The yen weakened some 10% during the April-June quarter, almost touching 137 to the dollar at one point, compared to Toyota's forecast for the year of 115 yen.
A weak yen is typically a boon for companies that export, as it boosts revenue when overseas earnings are brought home. However, some of the benefit has been offset in recent years as Japanese companies manufacture more abroad, meaning that their overseas costs also go up as the yen weakens.
Analysts said even if the economy slows down, Toyota has an enormous backlog of orders, and a decrease in demand for consumer electronics could divert chips to automobile production.
Toyota's decision not to change the full-year target suggests it is confident about production in the second half of the year reaching its initial goal.
Reuters with additional editing by Jim Pollard
ALSO SEE: