China is likely to meet its 5.5% GDP growth target for this year, despite pressure from the recent Covid-19 wave that has led to lockdowns in Shanghai, Beijing and many other cities, a report in the People's Daily said on Tuesday.
Economists and experts cited in the report noted the resurgence in Covid-19 cases and "a complicated and grim external environment" but said the country had "plenty of policy tools to stabilize the economy."
China enjoyed 4.8% growth over the previous year in the first quarter and inflation was lower than other major economies, Wang Yiming, vice-chairman of the China Centre for International Economic Exchanges, was quoted as saying.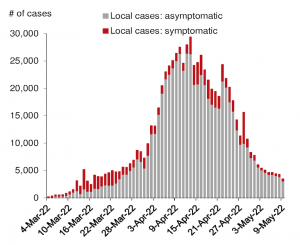 Most foreign and independent analysts have been less optimistic.
Nomura said the 5.5% growth target is "increasingly difficult" to achieve, because China's export growth has plunged and while the Covid caseload had fallen slightly – see the graph to the left – 41 cities are still implementing full or partial lockdowns, or stringent district control measures.
Close to 290 million people were still affected by lockdown measures, in cities that account for 29.5% of the country's GDP, Nomura analysts Lu Ting, Jing Wang and Harry Zhang said on Tuesday.
Capital Economics, in a commentary on April trade data on Monday, said export volumes were at their lowest level since October 2020, but it believed that was also caused by softer global demand because of the war in Ukraine and concern about inflation and rising interest rates.
• Jim Pollard
ALSO on AF: