India suspended its visa services for Canadian citizens effective from Wednesday, citing "operational reasons", amid a snowballing diplomatic dispute with Ottawa.
The suspension, announced on the website of BLS International, an Indian company offering visa facilities, caused intense confusion amid the lack of an official statement on the suspension.
The notice announcing the suspension was seen on the BLS website around noon (India time) and taken down minutes after. Eventually, a ticker announcing the suspension could be seen on the BLS webpage again (as of 10:30AM GMT).
India's foreign ministry spokesperson did not respond to queries about the matter.
Meanwhile, Indian daily Hindustan Times reported that an official confirmed the suspension reports but declined to give any further clarification. "The language is clear and it says what it is intended to say," HT quoted the official as saying.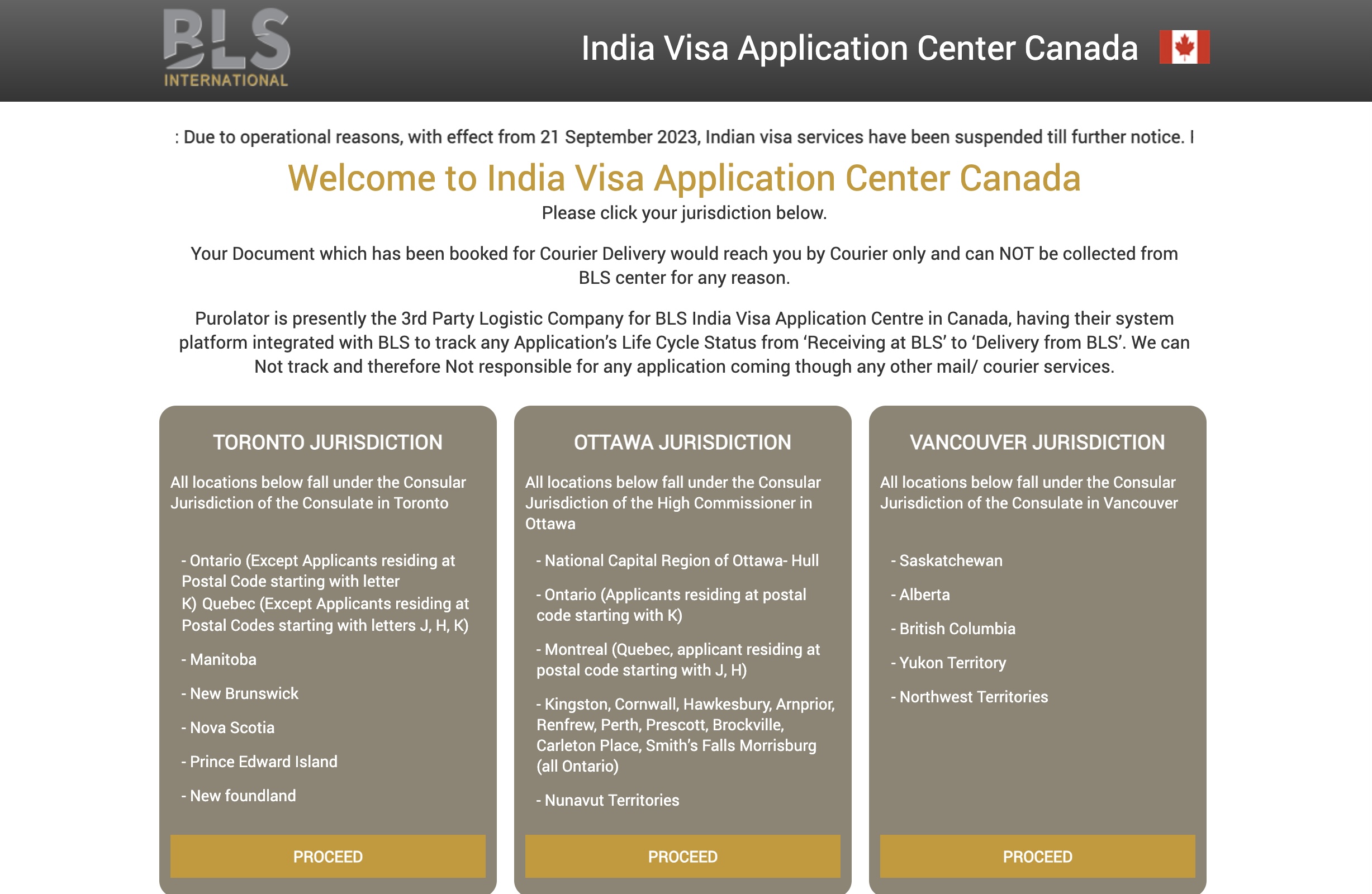 Escalating tensions between the two countries follow Canada's allegations earlier this week that Indian state agents were responsible for carrying out the killing of Sikh separatist leader Hardeep Singh Nijjar in British Columbia, in western Canada, in June. India rejected Ottawa's claims as "absurd".
The two countries have been at odds about the activities in Canada of separatist activists — who demand a separate territory in northern India.
The row has seen both countries expelling each other's diplomats, a move that analysts say mark the lowest point in India and Canada diplomatic ties.
The spat between India and Canada is also putting Western nations in an awkward position, as they boost dealings with India as a hedge against China, because they are also close allies of Ottawa.
'India important, not Canada'
Canada's claims of being in possession of "intelligence" linking New Delhi to the gunning down of Nijjar is the kind of news that usually sparks uproar among democratic allies.
That, however, has not happened this time, with the West courting India as a counterweight to China.
"India is important in Western calculations for balancing China, and Canada is not," Stephanie Carvin, a professor of international relations at Ottawa's Carleton University, said.
"This really does put Canada offside among all other Western countries," she said.
Trudeau's rare attack, just days after New Delhi hosted a G20 Summit, came after Ottawa had already discussed the matter with key allies such as the 'Five Eyes' intelligence sharing alliance, which also includes the United States, Britain, Australia and New Zealand.
Their response, so far, has been muted.
"Our Five Eyes partners are understandably reluctant to really wade into this, given everybody's interest in advancing ties with India, in the context of the ongoing tension with China," said Wesley Wark, from the Centre for International Governance Innovation (CIGI) think tank in Waterloo, Ontario.
High stakes for the West
The muted response to Trudeau's allegations is a stark contrast to the uproar that followed the poisoning of Russian double agent Sergei Skripal and his daughter Yulia in England in 2018. Britain, the United States, Canada and others threw out more than 100 Russian diplomats to punish Moscow for an attack it has always denied carrying out.
But currently, Britain has refused to publicly criticise India. A statement from Foreign Secretary James Cleverly about the affair did not mention India by name. "All countries should respect sovereignty and the rule of law," Cleverly said in a post backing Canadian investigations.
All countries should respect sovereignty and the rule of law.

We are in regular contact with our Canadian partners about serious allegations raised in the Canadian Parliament.

Important that Canada's investigation runs its course and the perpetrators brought to justice.

— James Cleverly🇬🇧 (@JamesCleverly) September 19, 2023
On Tuesday, London said it will continue bilateral trade talks with India as planned.
Britain is in a difficult position, caught between supporting Canada and antagonising India, a country it wants as a trading partner and ally to help confront China, Chietigj Bajpaee, an India expert at the Chatham House think tank in London, said.
"Short of there being any definitive evidence of India's involvement, I think the UK response is likely to remain muted," he said. A free-trade deal would be a "major political win" for both India and Britain, Bajpaee said.
Meanwhile, in the US, White House national security adviser John Kirby said Washington was "deeply concerned" about Ottawa's allegations. He encouraged Indian officials to cooperate in any investigation.
He also denied a Washington Post report that said the US turned down a push by Trudeau for a joint statement condemning India at the G20 summit in New Delhi.
"Any reports that we rebuffed Canada in any way whatsoever are false, and we will continue to coordinate and consult with them on this," he said. Washington, however, reportedly played a key role in assisting Canada in gathering the intelligence behind Trudeau's claims.
Canada's 'limited options'
According to Canadian government sources, Ottawa would have preferred to wait longer before the statement against India, but felt they had to act, as some domestic media outlets were about to break the story.
Trudeau would have never spoken "out loud if we didn't have the information lining up into a fact base", said one source, adding that they hoped more information would come soon.
Canada has not made public the intelligence it has because there is an active murder investigation, the senior source said.
"On the cusp of the global opportunity for India, they absolutely need to handle this responsibly – for their own interests," the source said.
Analysts say the Trudeau government will need to provide irrefutable evidence to see any kind of strong response from its allies. Until it can do so, Ottawa's options look limited.
"It's a bit of a waiting game. If the Canadians come up with very solid evidence about egregious Indian state involvement in an assassination attempt, I think we'll hear more from our allies in support," CIGI's Wark said.
Speaking to Canada's CTV, Richard Fadden, former head of the Canadian Security Intelligence Service, said: "If we don't get our allies to support this, either publicly or privately, Canada's not going to be able to do a great deal to move India."
"And I think the greatest thing we can aspire to in the short term or the medium term is to get India not to do this again."
Reuters, with additional inputs from Vishakha Saxena
Also read: