US Secretary of State Antony Blinken met China's top diplomat Wang Yi on Saturday amid rising tensions between the world's biggest economies around the Chinese 'spy balloon' saga.
The top diplomats met at an undisclosed location on the sidelines of a global security conference in Munich. That was just hours after Yi scolded Washington as "hysterical" for shooting down the suspected spy balloon.
In an interview after the meeting, Blinken said he told Yi that a balloon's flight over the US 'can never happen again'. He also warned of consequences should China provide material support to Russia's invasion of Ukraine.
The spy balloon incident further complicated already frayed relations between the two superpowers. The dispute also came at a time when the West is closely watching Beijing's response to the Ukraine war.
In an interview to be aired on Sunday morning on NBC News' "Meet the Press with Chuck Todd," Blinken said the United States was very concerned that China is considering providing lethal support to Russia.
Blinken said he made clear to Wang that "would have serious consequences in our relationship."
"There are various kinds of lethal assistance that they are at least contemplating providing, to include weapons," Blinken said, adding that Washington would soon release more details.
'Blunt warning'
Speaking to reporters in a briefing call, a senior State Department official said China was trying to "have it both ways" by claiming it wants to contribute to peace and stability but at the same time taking "concerning" steps to support Russia's invasion of Ukraine.
Blinken "was quite blunt in warning about the implications and consequences of China providing material support to Russia or assisting Russia with systematic sanctions evasion," the senior official said, speaking on the condition of anonymity.
Russia and China signed a "no limits" partnership last February shortly before Russian forces invaded Ukraine. Their economic links have boomed as Moscow's connections with the West have shrivelled.
The West has been wary of China's response to the Ukraine war, with some warning that a Russian victory would colour China's actions toward Taiwan. China has refrained from condemning the war or calling it an "invasion."
No apology from China
Blinken and Wang's meeting came hours after the top Chinese diplomat accused the US of violating international norms with "hysterical" behaviour by shooting down the balloon.
"To have dispatched an advanced fighter jet to shoot down a balloon with a missile, such behaviour is unbelievable, almost hysterical," Wang said at the security conference.
"There are so many balloons all over the world, and various countries have them. So, is the United States going to shoot all of them down?" he said.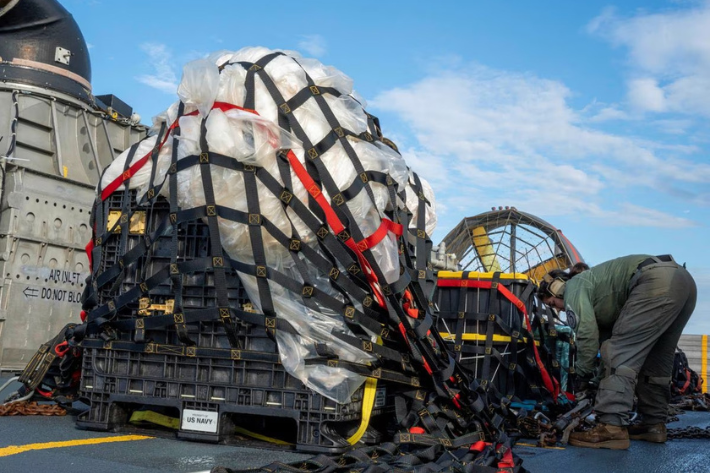 Questions had swirled as to whether Blinken and Wang would use the gathering in Munich as a chance to reengage in-person and the US State Department only confirmed the hour-long meeting after it had ended.
In the interview with NBC, Blinken said Wang did not apologise for the balloon's flight.
"I told him quite simply that that was unacceptable and can never happen again," Blinken said, referring to the balloon's violation of US air space.
"There was no apology," he said.
The balloon's discovery had prompted Blinken to postpone a planned visit to China earlier this month. In the interview he said there was no discussion with Wang on rescheduling that trip.
'No trust between US-China'
On its part, Washington has been hoping to put a "floor" under its relations with China. Ties between the two had hit a dangerous low in August following then-US House Speaker Nancy Pelosi's visit to Taiwan.
But Craig Singleton, a China expert at the Foundation for Defense of Democracies in Washington, said while Wang's comments at the conference were likely aimed at deflecting embarrassment over the balloon incident, the lack of a strong response from Washington "increases China's appetite for risk in future disputes."
"Blinken and Wang's meeting will not change the downward trajectory in the US-China relationship. It's clear there is almost no trust between the two sides," Singleton said.
Meanwhile, the Pentagon's top China official, Deputy Assistant Secretary of Defense Michael Chase, reached Taiwan on Friday, two sources familiar with matter said.
The visit could worsen tensions between the two countries, as China has repeatedly demanded that foreign officials not visit Taiwan.
Reuters, with additional editing by Vishakha Saxena
Also read: