An investigation into illegal mining in China's lithium hub Yichun could set back global supply of the battery raw material by 13% this month, analysts said on Monday.
The Chinese city in southeastern Jiangxi province, known as Asia's lithium capital, said last week it was cracking down on criminal activity, such as unlicensed and environmentally-damaging mining.
The Yichun government did not specify whether producers could continue operating during the investigation, but two Yichun-based lithium companies said on Monday they had suspended mining.
Yichun has an annual lithium extraction capacity of 150,000 tonnes of lithium carbonate equivalent (LCE). It produces about 29% of the country's lithium salt. Several Chinese battery-makers including CATL own mining assets in Yichun.
Earlier this month, China's Sina Finance reported the 'chaotic' lithium mining craze drove villagers in Yichun to dig up "deep pits" in order to extract lithium-rich lepidolite ores.
Analysts at Citic Securities Research said they assumed mining in the city would be halted for a month, removing around 13,000 tonnes of LCE from global supplies. That equates to about 13% of the world's total supply in a given month, they added.
Financial news outlet Yicai reported on Sunday that the central government had also sent a working group to Yichun investigate the sector.
Yichun's bureau of Industry and Information Technology declined to comment on the inquiry.
Boon for falling lithium prices
Lithium salt producers and analysts said the hit to Yichun's production was likely to support rapidly falling prices. Lithium prices, which surged dramatically following the electric vehicle (EV) boom China, have been on a downward trajectory since late last year.
Spot lithium carbonate prices in China have dropped 34% since mid-November to less than 400,000 yuan ($57,553.13) a tonne.
The average spot price of lithium carbonate fell to 392,500 yuan per tonne on Friday, according to a report by Caixin.
Analysts expect prices of the metal to fall further this year due to oversupply and plunging EV sales in China.
In January, China's EV and hybrid passenger car sales fell 45% from December after Beijing ended subsidies and incentives for their purchase.
Given growing supply, Goldman Sachs sees spot prices of lithium carbonate sinking to $34,000 a tonne in the next 12 months, from an average of $53,304 this year. Out to 2025 it expects lithium supply to grow on average by 34% a year against an annual demand growth rate of 25%.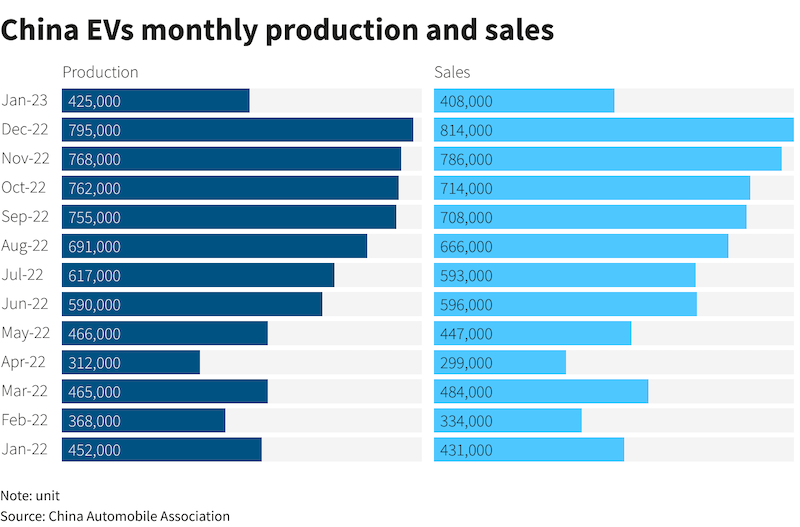 Lithium bubble has burst
Rare discounts offered by Chinese battery giant CATL to automakers have accelerated a plunge in lithium prices, and the market is set to drop a further 25% with supply growth outpacing demand, analysts and traders say.
After a frenzied rush by electric vehicle makers to secure raw materials over the past two years, which drove prices for lithium carbonate up more than six-fold and spodumene up nearly ten-fold, the bubble has burst.
"Supply is coming on stream faster than you can say 'boo'," analyst Dylan Kelly at Ord Minnett in Sydney said. "Demand remains strong but prices have been unsustainable for some time now."
The turning point for lithium prices came late last year as electric vehicle demand in China slowed sharply ahead of Beijing's planned halt to subsidies for the $87-billion industry, the world's biggest and fastest growing.
The slide steepened, analysts say, as investors were spooked by a drop in China's January electric vehicles sales and by CATL's discount terms, which included an assumption that prices of lithium carbonate, a key component in auto batteries, would more than halve.
But even as demand worries have rocked markets, it is the looming supply from China, Australia and Chile that will bring prices back down to earth, analysts say.
Rystad Energy sees the global market deficit of lithium shrinking to around 20,000 to 30,000 tonnes of lithium carbonate equivalent (LCE) this year, from 76,000 tonnes LCE in 2022.
Lithium giant Albemarle, ascribed lower car sales to temporary weakness given the early Lunar New year. Albemarle sees China's EV market growing 40% this year.
"Demand is still healthy, but battery and EV makers are currently destocking instead of placing new orders. The subdued spot demand therefore is weighing on sentiment and pressing down prices," Susan Zou, Shanghai-based vice president at consultancy Rystad Energy, said.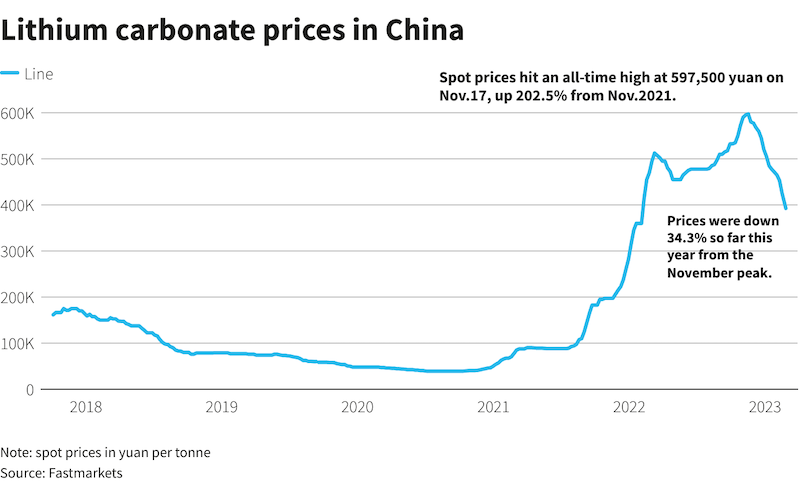 The decline in lithium prices in China, the world's biggest consumer, has hit lithium producers overseas. Shares in Albemarle and Australia's Pilbara Minerals are both down by a quarter since November, while Allkem is down around 30%.
However Allkem's chief sales and marketing officer, Christian Barbier, said the price slide in China "needed to happen" and was "helpful", and said it was exacerbated by the country's battery makers jostling for market share.
Miners' profitability remained very strong, he told analysts on an earnings call on February 23. "So that's why we're not too concerned about the overall fundamentals and the future direction of prices," Barbier said.
S&P analysts see the average cash operating cost of lithium carbonate production at $4,563 per tonne LCE and total cash cost $7,540 per tonne LCE, which is a fraction of the prices that analysts are forecasting for lithium carbonate.
"Therefore it is quite a stretch to find the bottom for lithium prices because lithium producers will remain profitable under much lower prices," S&P Global Commodity Insights analysts said.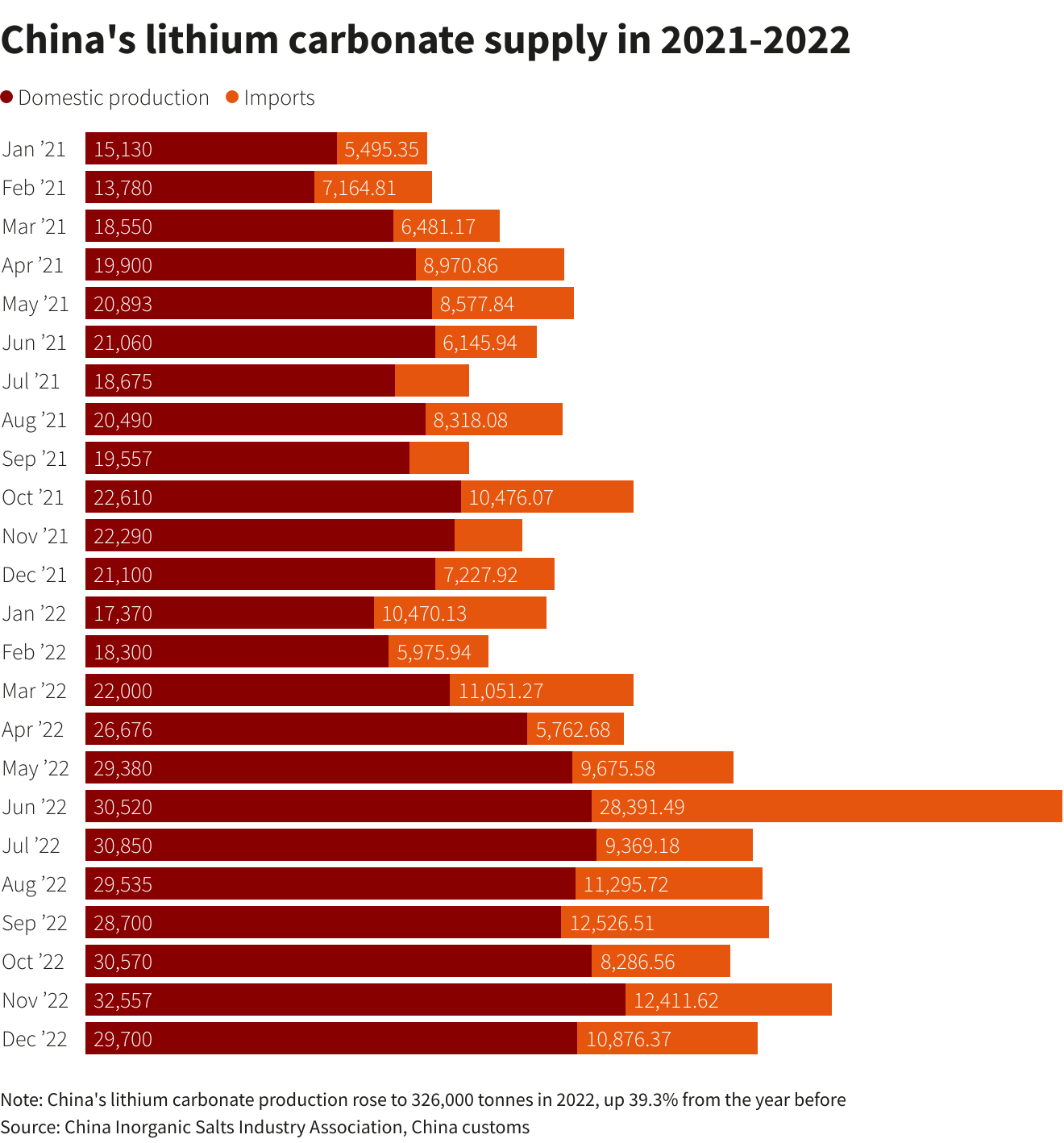 Spot prices for lithium carbonate are likely to drop below 300,000 yuan by the end of this year, about half the level they peaked at in November 2022, four China-based analysts and five traders, buyers and producers said.
"A lithium carbonate price of 200,000-300,000 yuan per tonne is where both upstream and downstream will feel comfortable," Rystad's Zou said.
Even support from supply disruptions such as an investigation into illegal mining in China's lithium is likely to prove only temporary, they said.
Reuters, with inputs from Vishakha Saxena and Jim Pollard
NOTE: This report was expanded on February 28, 2023 with further details (and graphs) on lithium price moves.
ALSO SEE: