Hui Ka Yan's life story is the stuff of legends – one of the most extraordinary careers in China's recent history. But with the enormous bubble in China's property sector now deflating, the good days are over.
A former steel industry employee from a rural village, Hui enjoyed an astonishing rise to become China's richest man, by creating a vast real-estate empire.
In the beginning, he followed a simple formula: Borrow to buy land, sell homes on the site before they are built; then use the cash to pay lenders and finance the next real estate project.
From the mid-1990s for two decades, this approach was enormously lucrative as Chinese home prices soared. It gave Hui vast riches and influence. But as Evergrande grew increasingly laden with debt, the company resorted to ever-more unorthodox strategies to generate funds.
Hitting up employees for cash
By 2016, at least one Evergrande subsidiary was encouraging some staff to buy financial products from the group's wealth-management unit, which helped fund property development, according to a former employee and one company document. The former employee said some people were asked to spend up to half of their salaries on such products.
Hitting up employees for funds was just one of a number of unusual practices employed by the company before it came to the brink of a messy collapse in 2021 under the weight of hundreds of billions of dollars of debt.
This account of the rise and fall of Hui and Evergrande is based on interviews with more than 20 people who have worked with the tycoon or at his company. All spoke on condition of anonymity.
Evergrande said Hui wasn't available for an interview. Neither the founder nor the company responded to written requests for comment, including about whether employees were encouraged to purchase financial products, Hui's management style, the company's business practices and the challenges it faces.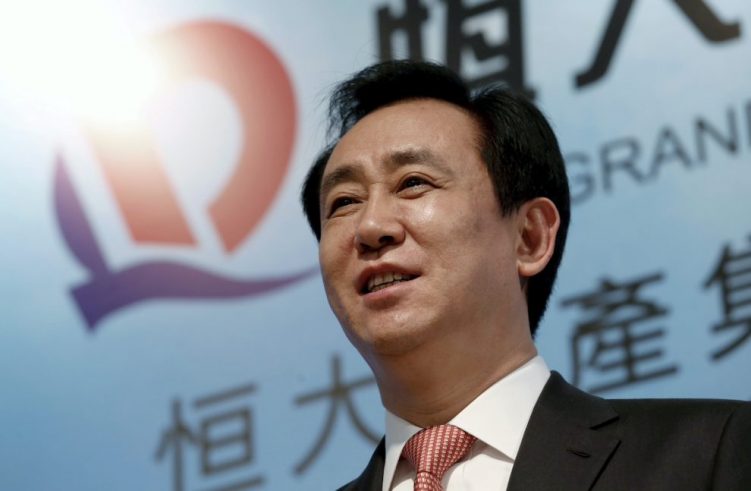 Ambitious, demanding, charismatic
Hui was an ambitious businessman who could be demanding with his staff, charismatic with creditors, and at times self-indulgent. He had a team of female personal assistants and at least some of them were hired primarily for their looks, according to four former employees and a person familiar with the company.
Evergrande's story also reveals the inner workings of a Chinese property giant, from the heady days of rocketing real-estate prices to the precipitous decline of the company when incensed retail investors stormed its offices. The company's arc also traces the fortunes of China's broader property market, a key driver of growth of the world's second-biggest economy – but is now an anchor tugging that economy down.
Companies accounting for 40% of Chinese home sales have defaulted since mid-2021, according to analyst estimates. Homes have been left unfinished. Suppliers haven't been paid. And some of the millions of Chinese people who put their savings in property-linked wealth management products face the prospect of not getting their money back.
Evergrande's properties were "sold as a speculative investment, not sold as a place to live," said Anne Stevenson-Yang, managing principal at J Capital Research in the United States, which produces research and takes short investment positions, or bets on a stock's decline. People purchase them because they think the value will appreciate "so obviously the confidence game will only work as long as people keep buying."
Public confidence is drying up. China's property market was shaken again in recent weeks when another major developer, called Country Garden, missed payments on two US dollar bonds and sought to delay repayment on a private onshore bond.
Evergrande's problems aren't easing. The embattled developer has proposed restructuring terms for its offshore debt, and recently, it sought a US court's approval on the plan. Evergrande has said its proposed restructuring plan will alleviate its offshore debts and help the company to resume operations.
On Sunday, Evergrande reported losses of 33 billion yuan ($4.53 billion) for the first half of the year, versus a 66.4 billion yuan loss in the same period a year earlier. Evergrande's shares fell 79% on Monday after resuming trading following a 17-month suspension, wiping out $2.2 billion of the company's market value.
Group faces 2,200 lawsuits
For 64-year-old Hui, the company's decline has destroyed tens of billions of dollars of his personal net worth and necessitated the frenzied sale of corporate assets to help repay debt. The company faces a legal onslaught, too: Evergrande said there were more than 2,200 lawsuits totaling roughly 535 billion yuan ($73.40 billion) in potential liability as of June.
The Chinese property sector's worsening debt crisis poses a significant challenge for President Xi Jinping and his policy makers, with the country's economy already reeling from weaker domestic and overseas demand. China's economic output grew at a frail pace in the second quarter.
Anxiety about contagion spreading to the country's financial sector and the broader economy is weighing on global markets.
China's State Council Information Office, which handles media queries on behalf of the government, declined to comment on the property market and Evergrande's fate. The housing authority and the finance ministry didn't respond to comment requests.
Raised by his grandmother, buying land
Hui was raised by his grandmother in a rural village in Henan province, according to a biography. He founded Evergrande in 1996, as China was dismantling its system of state-provided housing and urbanizing fast. About a third of Chinese lived in cities then. Now, about two-thirds do.
Local authorities had an incentive to favour housing development by companies like Evergrande. Beijing significantly increased the share of taxes taken in by the central government in the mid-1990s. Local governments saw their share shrink, but they didn't get a commensurate reduction in their responsibility to provide services. To replenish their coffers, local governments sold land to developers to raise revenues.
Hui tapped into this demand. He purchased the land for his first development project in 1996 for 5 million yuan, borrowing more than half the amount, according to the biography. He sold the first complex the following year for 80 million yuan, according to Evergrande's website.
By 2009, Evergrande had expanded to more than 20 cities, according to the company. When Hui listed Evergrande's stock in Hong Kong in 2009, it raised the equivalent of $729 million. The deal made Hui, who then owned about two-thirds of the company, worth billions of dollars.
By 2013, Hui was riding high. He was elected a member of one of China's most prestigious political bodies, the standing committee of the Chinese People's Political Consultative Conference. That year, Guangzhou Evergrande, the soccer team the company had purchased control of three years earlier, won Asian soccer's top club competition.
When in Hong Kong, he mixed with the city's property tycoons, playing cards and cutting investment deals with them, according to three people with knowledge of the meetings. Hui ate at Hong Kong's elite members-only Dynasty Club, dining on Chinese delicacies such as bird's nest soup and shark fin soup, said the person familiar with the company.
While entertaining businessmen at a clubhouse at Evergrande's Guangzhou offices during the boom years, Hui on at least two occasions threw cash for entertainment and watched while his female assistants scooped up the bills from the floor, said a person who used to work for him.
Hui and Evergrande didn't respond to questions about the founder's lifestyle.
'Everything was from the top down'
Even as Evergrande expanded, Hui remained involved at all levels. He would approve all land acquisitions, said a former employee who worked in one of Evergrande's regional offices.
Hui helped craft advertising slogans, two of the people said. He was particular about fonts and font sizes, according to the person who used to work for him. And Hui asked staff to fine employees for minor infractions, according to the person who used to work for him and a person familiar with the company, including for things like not being appropriately dressed.
"Everything was from the top down. No one queried what Hui said," one former employee said.
The corporate culture was reflected in a video of Hui playing in a company basketball match, which was uploaded to a sharing platform in April 2020. As Hui repeatedly shoots the ball, opposing players barely challenge him.
For those who accepted Hui's style, there was a clear upside: generous pay. The average salary at Evergrande was 15,666 yuan ($2,149.38) a month in 2018, according to employment data website Maimai.cn. That was about three times the monthly average in the real-estate sector, according to official data.
Some employees in Evergrande's capital department pocketed lucrative bonuses for securing loans from banks or other lenders, with teams earning up to 1% of the amount borrowed, said a former employee and the person familiar with the company. The bonuses were then divided up among the team, the former employee said.
2017 – Asia's richest man
In 2016, with China's property prices on a tear, Evergrande overtook its main rival to become the nation's number one developer by sales. The company's land reserves reached 312 million square metres, double just two years earlier.
Evergrande's share price in 2017 topped HK$30, more than seven times its 2009 initial public offering price. Hui became Asia's richest man, with an estimated fortune of tens of billions of dollars at the time, according to Forbes magazine.
As Evergrande was gorging on land, it sought ways to help finance its deals. At its then internet unit, HengTen Networks, the company encouraged some employees to dip into their own pockets and buy the group's wealth-management products.
The May 2016 document lists more than a dozen people who are identified as not having fulfilled a quota for purchasing Evergrande financial products. A handwritten note on the document describes the situation as "serious" and says bonuses would be cut if these more than a dozen people didn't meet their quotas.
Management did cut some bonuses as a result, said the former employee, who had worked at HengTen. The person familiar with the company, who spoke of Hui's dining habits in Hong Kong, said targets for purchasing financial products were widespread at Evergrande and also said staff would be penalized for not meeting their quotas.
$12 billion raised from wealth management products
In a recent stock-exchange filing, Evergrande said it had raised about 92.1 billion yuan ($12.64 billion) from the sale of wealth management products over time, and that as of the end of 2022 there was about 34 billion yuan ($4.66 billion) unpaid principal and interest on such products.
While it's common for Chinese developers to raise funds for property projects by selling wealth-management products, tying employee bonuses to the purchase of such products is unusual, two industry insiders said.
"You can look more profitable, but it's an artificial boost," said Kelly Richmond Pope, forensic accountant and professor at Chicago's DePaul University.
Evergrande Wealth, a unit of Evergrande Group's Evergrande Financial Holding Group, didn't respond to requests for comment. China's banking regulator also didn't respond to requests for comment.
All the while, Hui was loading up the company with debt. It was around this time that the government began to publicly express concern about the scale of borrowing in the property sector.
When questioned by investors and reporters over the years about his highly leveraged projects, Hui responded that Evergrande's high turnover and asset value were sufficient to cover its debts.
He would also publicly pay tribute to the ruling Communist Party. "Without the country's good policy to reform and open up, Evergrande would not have what it has today," Hui said in a 2018 speech at the China Charity Awards.
New ventures, vows to cut debt & a sign of bad luck
Hui, who had already expanded into other businesses ranging from plastic surgery to life insurance, continued to invest in new ventures. By 2019, he was making a foray into electric cars.
In early 2020, Hui publicly reiterated a pledge to "significantly lower" his company's debt. But keeping Evergrande afloat was about to get a lot more difficult.
Beijing now implemented strict new regulations aimed at restricting the financing of highly-leveraged developers. By 2021, Chinese property sales were starting to decline, and the government crackdown led to a series of defaults by developers, with many going out of business.
In a monthly meeting with staff in 2020, Hui rued the death of some of his Japanese koi carp, according to the person familiar with the company. Hui said the deaths were a harbinger of bad luck, the person said.
As banks and investors became more cautious about lending to property developers, Evergrande sought alternate – and pricier – sources of funding.
One place the company sought funds from was so-called trust firms. Dubbed "shadow banks," because they operate outside many of the rules that govern commercial banks, trust firms were keen to capitalize on the needs of an industry eager for credit. And they could charge far higher interest rates than the closely regulated banks.
As the general credit crunch intensified in 2020 and 2021, Evergrande had difficulty selling its local yuan bonds, amid concerns about their creditworthiness. The company used its own funds to buy the bonds through special purpose vehicles, said a former employee of Evergrande's finance team and a person familiar with the company's financing arrangements. The people said those vehicles then sold the bonds at a higher yield, or interest payment, that investors would consider commensurate with the risk.
Sometimes the effective interest on these bonds would be as high as 18%, while in the open market it was 6%, the former finance team employee said. "The real price they were paying for finance was eating up the profits," this person said.
Evergrande also diverted loans that had been secured by its property-services unit, which was publicly listed, to pay the group's operational and financial needs, a committee of Evergrande's independent directors has said. The committee investigated the matter after banks seized 13.4 billion yuan ($1.84 billion) of deposits held by the property-services unit in 2021.
Last year, three senior executives stepped down after an initial probe said they were involved in diverting the loans.
"Evergrande has a particularly cowboy mentality," said Stevenson-Yang, of J Capital Research.
Neither Hui nor the company responded to questions about whether Evergrande used special purpose vehicles to purchase and resell bonds or on the loan diversions. The company has said it was in talks with the property-services subsidiary about a repayment schedule and has adopted measures to address potential internal control weaknesses.
By 2021, Evergrande's total liabilities had reached $300 billion. The cash-strapped company struggled to pay suppliers and complete homes. Its property revenues plunged.
Evergrande also failed to pay retail investors in its financial products on time, sparking protests across the country. Chaotic scenes erupted at company offices in Shenzhen in September 2021 as some 100 disgruntled investors crowded its lobby to demand repayment.
Days later, Hui said in a letter to staff that he was confident the company would "walk out of its darkest moment."
But Evergrande reported a combined loss of $81 billion for 2021 and 2022. In March last year, trading of Evergrande's Hong Kong-listed shares was suspended. Hui has reduced his stake in the company and his own personal fortune is now worth less than a tenth of the $36 billion it was at its peak in 2019, according to Forbes estimates.
Evergrande is in the process of seeking approvals from creditors and the courts for its offshore debt restructuring plan. Creditors are due to meet in late September to vote on the plan, which could allow them to recoup up to a quarter of what they are owed.
In a January letter to employees, Hui described 2023 as a "crucial year" and pledged to repay creditors and deliver on projects.
The year didn't start well for him, though. A Hong Kong mansion creditors had seized from him was put on sale in March. Its estimated value: Around $112 million.
How things play out from here are unknown, but with total liabilities amounting to 2.4 trillion yuan ($335 billion) last year, it looks all downhill from here.
Reuters with additional editing by Jim Pollard
ALSO SEE: