India's power generation grew at the fastest pace in over three decades in the fiscal year ended March 2023, an analysis of government data has shown.
Intense summer heatwaves, a colder-than-usual winter in northern India and an economic recovery led to a jump in electricity demand, forcing India to crank up output from coal plants and solar farms as it scrambled to avoid power cuts.
However, the jump power generation also fuelled a sharp surge in emissions as output from both coal-fired and renewable plants hit records.
India's power generation rose 11.5% to 1,591.11 billion kilowatt-hours (kWh), or units, in the 2022-23 fiscal year, an analysis of daily load data from regulator Grid-India showed. That was the sharpest increase since the fiscal year that ended in March 1990.
Output from plants running on fossil fuels rose 11.2%, the quickest growth in over three decades, thanks to a 12.4% surge in electricity production from coal, the analysis showed. That offset a 28.7% decline in generation from cleaner gas-fired plants as a global spike in LNG prices deterred usage.
In the new fiscal year that began April 1, Indian power plants are expected to burn about 8% more coal.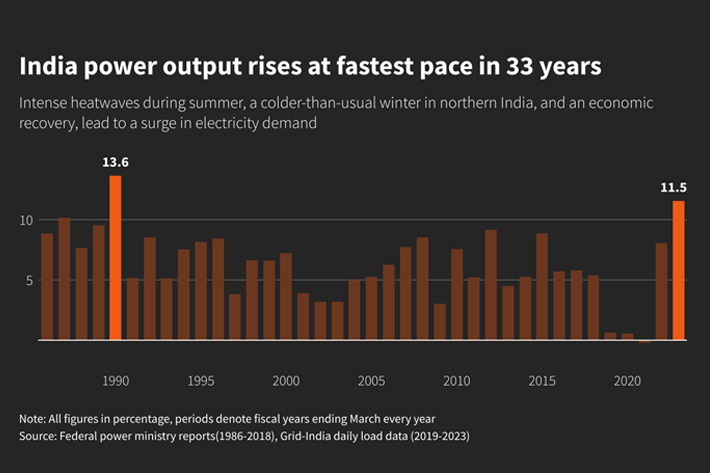 73% power fuelled by coal
The rapid acceleration in India's coal-fired output to address a spike in power demand underscores challenges faced by the world's third largest greenhouse gas-emitter in weaning its economy off carbon, as it attempts to ensure energy security to around 1.4 billion Indians.
Total power supplied during the last fiscal year was 1509.15 billion kWh, 8.4% higher than a year earlier but still 6.69 billion units short of demand, the widest deficit in six years.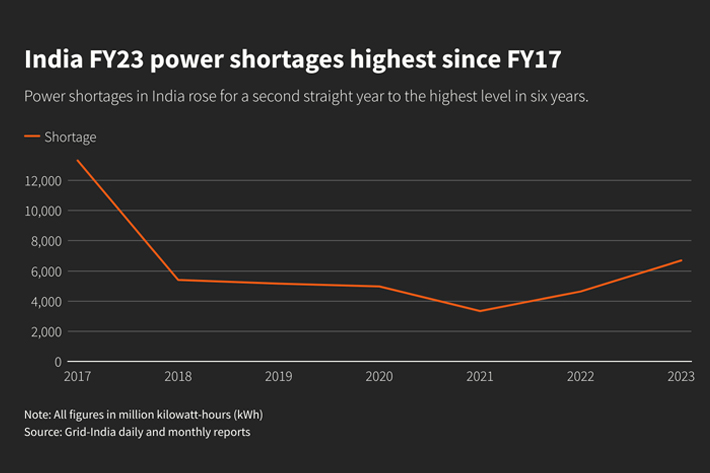 Electricity generated from coal rose to 1,162.91 billion kWh, the data showed, with its share in overall output rising to 73% – the highest level since the year ending March 2019.
Many major countries boosted coal use in the 12 months due to Russia's invasion of Ukraine, but the rise was steepest in India, data from energy think-tank Ember shows.

Surge in emissions
India's Central Electricity authority estimates that 1 million kWh of power produced from coal generates 975 tonnes of carbon dioxide, while the same amount of power generated from gas produces 475 tonnes. A plant fired by lignite, known as brown coal, emits 1,280 tonnes to produce equivalent power.
Increased fossil fuel burning for power in the world's fifth largest economy drove up CO2 emissions during the year by nearly a sixth, to 1.15 billion tonnes, Reuters calculations based on government data and emissions estimates show.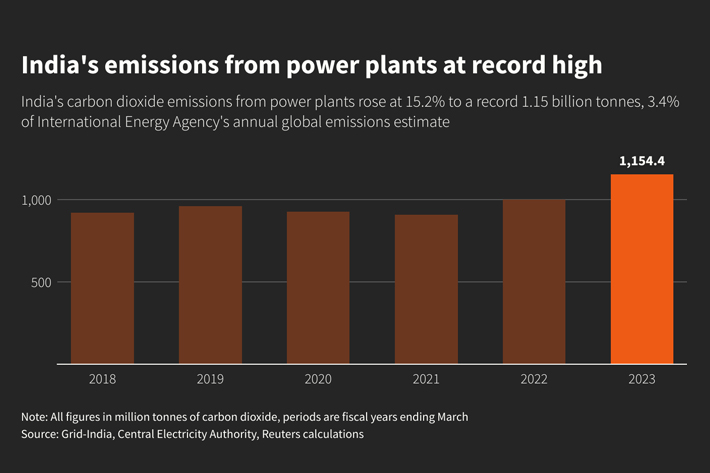 That is 3.4% of the International Energy Agency's estimate of annual global emissions of 33.8 billion tonnes in 2022.
Renewables push
The Indian government has defended its high coal use citing lower per capita emissions compared with richer nations and rising renewable energy output.
After missing a target to install 175 GW in renewable energy capacity by 2022, India is trying to boost non-fossil capacity – solar and wind energy, nuclear and hydro power, and bio-power – to 500 GW by 2030.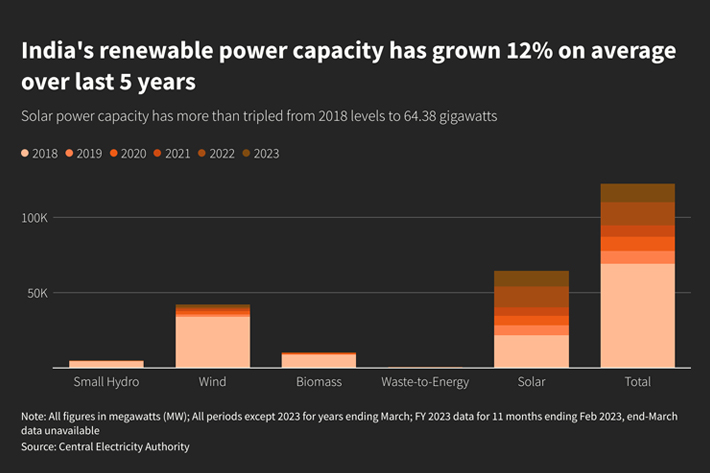 India's solar capacity additions have risen by about a fifth during the just-ended fiscal year, boosting its renewable energy output by a record 33.3 billion units, or 21.7%, to 187.1 billion units.
The green energy output helped prevent as much as 32.5 million tonnes of CO2 emissions from power that would otherwise likely have been produced with coal, calculations show.
The share of renewables in power generation, excluding big hydro and nuclear power, rose to 11.8% in 2022/23, compared with 10.8% the previous year, the data showed, driven mainly by a 35% increase in solar output.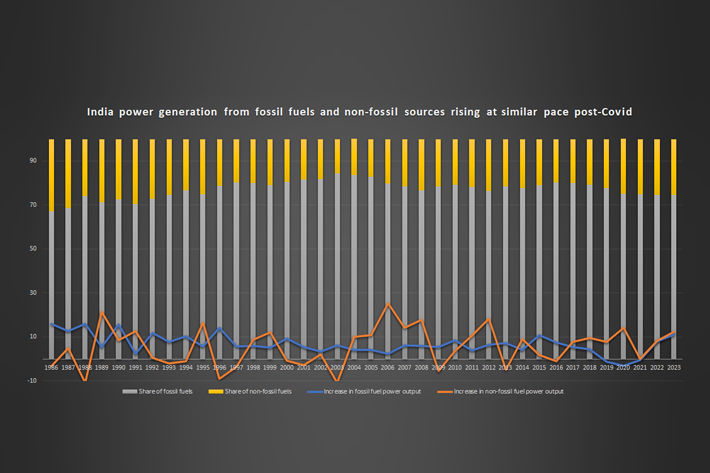 Reuters, with additional editing by Vishakha Saxena
NOTE: The photo on this report was changed on April 5, 2023.
Also read: