China's manufacturing activity appears to have bounced back strongly, with data for February showing it expanded at the fastest pace in a decade.
Official figures released on Wednesday were higher than expected with production rising finally after the lifting of Covid restrictions in early December.
The manufacturing purchasing managers' index (PMI) shot up to 52.6 from 50.1 in January, according to China's National Bureau of Statistics, above the 50-point mark that separates expansion and contraction in activity.
The figure far exceeded an analyst forecast of 50.5 and was the highest reading since April 2012.
The world's second-largest economy recorded one of its worst years in nearly half a century in 2022 due to strict Covid lockdowns and subsequent widespread infections. The curbs were abruptly lifted one week into December as the highly transmissible Omicron spread across the country.
ALSO SEE:
Markets, Yuan, Aussie dollar rise
Global markets cheered the big surprise in the PMI with Asian stocks and the Australian dollar reversing earlier losses, the offshore yuan perking up and oil rallying, as investors took a more optimistic view on China's economic prospects.
"The high PMI readings partly reflect the economy's weak starting point coming into this year and are likely to drop back before long as the pace of the recovery slows," said Julian Evans-Pritchard, head of China economics at Capital Economics.
"We had already been expecting a rapid near-term rebound, but the latest data suggest that even our above-consensus forecasts for growth of 5.5% this year may prove too conservative."
Markets expect the annual meeting of parliament, which kicks off this weekend, will set economic targets and elect new top economic officials.
"The decent PMI readings provide a positive note for the upcoming National People's Congress. We expect the government to roll out further supportive policies to cement the economic recovery," Zhou Hao, an economist at Guotai Junan International, said.
The official PMI came out just before an upbeat private sector index from Caixin/S&P that showed activity rising for the first time in seven months.
Businesses accelerated their resumption of work and production, as the effect of economic stabilisation policies was felt by the sector while the impact of Covid-19 receded, the NBS said in a separate statement.
Furniture manufacturing, metal products and electrical machinery equipment saw big improvements, with production and new orders indexes in these industries all above 60.0.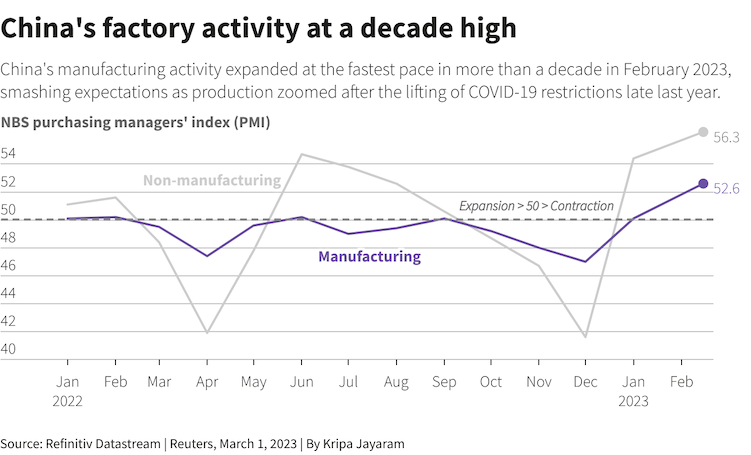 Export orders up, but outlook mixed
New export orders rose for the first time since April 2021, the PMI showed.
At the same time, China's PMI contrasted with more downbeat factory activity readings from other Asian economies for February, showing conditions abroad were sluggish.
More broadly, the outlook remains mixed as the country's major trading partners deal with surging interest rates and cost pressures.
China's manufacturing sector had been under pressure this year with factory-gate prices falling in January, data last month showed, due to still cautious domestic consumption and uncertain foreign demand.
Manufacturing companies have also seen surging purchasing prices in steel and related downstream industries, the NBS said.
The official non-manufacturing purchasing managers' index (PMI) rose to 56.3 from 54.4 in January, indicating the fastest pace of expansion since March 2021.
Construction activity, which is part of the official non-manufacturing PMI, picked up further, standing at 60.2 from 56.4, partly due to the resulting boost to infrastructure spending and increasing financing to help developers complete stalled projects.
Services activity also continued to rise with improvements in the transportation and accommodation sectors.
On Friday, China's central bank said the domestic economy was expected to generally rebound in 2023, although the external environment remained "severe and complex."
The composite PMI, which includes both manufacturing and non-manufacturing activity, rose to 56.4 from 52.9.
Reuters with additional editing by Jim Pollard
ALSO SEE: